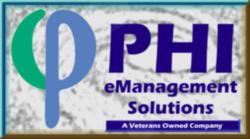 Individuals have the most responsibility for ensuring that their families are prepared for emergencies.
Newmarket, NH (PRWEB) April 02, 2013
PHI Management Solutions interviewed Christopher Pope, the former Director of Emergency Management and Homeland Security for the State of New Hampshire, on February 26th 2013. The topic of the conversation was emergency preparedness.
Director Pope served in the emergency management sector for over 30 years, starting his career as a firefighter and working his way up. He commented on the fact that there has been an increase in the number of incidents that have required a response by emergency providers. Director Pope made the point that it really does not matter what causes an incident, whether it is natural or man made, or even the zombie apocalypse, ninety percent of the preparatory and response actions are the same.
Pope made the point that we as individuals are most responsible for their own level of personal and family preparedness. He pointed out that it is not complicated, but every family should have food and water to last for three days, a place to evacuate to, and a communications plan. Jim Moody, PHI's Vice President of Emergency Preparedness and Training, mentioned that PHI has a complete line of emergency preparedness kits for homes, vehicles, classrooms, and offices. "Our kits are designed to get citizens through that first 72 hours, which brings an increased comfort level to families, and also takes the burden off first responders from trying to assist everyone to helping those most in need," Moody said.
Pope went on to discuss New Hampshire's response during the 2008 Ice Storm and how the efforts of individual community leaders make a difference in a towns ability to respond. He also discussed disaster preparation phases and the ability of the New Hampshire State Emergency Operation Center's (EOC) ability to grow from 40 regular personnel to well over a hundred depending on what type of event they were preparing for.
You can listen to the complete PODCAST at http://www.PHI-eMsolutions.com. The PHI team is composed primarily of military veterans with over 90 years of combined service. Each member of the team has proven themselves through combat command and has extensive experience in disaster response and planning. Team members have commanded response forces and/or participated in several disaster responses to include the 2005 crash of a civilian airliner in Afghanistan, Hurricane Katrina 2005, Southwest New Hampshire Flooding in 2005, New Hampshire Statewide flooding in 2006, Epsom, NH tornado response in 2007, the 2008 New England Ice Storm, 2009 Anthrax Response in Durham, NH, the 2010 NH Wind Storm, Hurricane Irene in 2011, the October 2011 New England Snow Storm and Super Storm Sandy in October 2012. In addition, they have energy partners in New Hampshire, Massachusetts, New Jersey and New York.