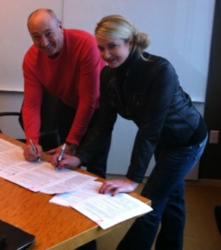 "I knew my search to find the right partner was going to end the moment I met Mike Amato," said Kristian Kimbro Rickard, founder of MAX451. "With Mike at the helm as CEO, MAX451 is perfectly poised for rapid growth."
Seattle, WA (PRWEB) April 03, 2013
After going through due diligence with venture capitalists and a private equity firm, MAX451 founder Rickard terminated a seven-figure acquisition deal to go with the angel investment and to create a partnership with Amato.
Amato was the Chief Distribution Officer for Barclays UK Retail and Business Bank, as well as Global Head of Product and Distribution.
At Barclays he led nearly 30,000 employees, serving some 15 million customers through various channels.
After leaving Barclays in 2011, Amato co-founded Cimarron Advisory, a leadership and culture development consulting firm.
He brings to MAX451 over 30 years of executive experience leading large teams in Fortune 100 companies. Amato is known for creating high performing teams, as well as mentoring other executives on driving growth though fundamental business and cultural transformation.
Founder Kristian Kimbro Rickard will team with Amato in her new role as Chief Marketing Officer.
// ABOUT MAX451
MAX451 is a Microsoft partner with a unique approach to improving user adoption of enterprise software, such as Microsoft's productivity products -- especially Microsoft Office 365 and SharePoint -- with their custom, light-weight Change Management methodology.
// FOR MORE INFORMATION
For more information about MAX451 services, user adoption programs and the leadership team, please visit http://www.MAX451.com or email info(at)max451(dot)com
Reach Mike Amato directly :: mike(dot)amato(at)max451(dot)com / (206) 330-0559
Reach Kristian Kimbro Rickard directly :: kristian(dot)rickard(at)max451(dot)com / (206) 330-0606
// CONNECT & DISCUSS