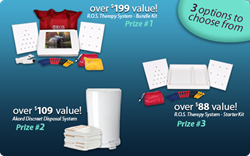 The prizes we're giving away each month help seniors live more independently and gracefully in their homes.
Neenah, Wis. (PRWEB) April 03, 2013
The CareGiver Partnership, a national retailer of incontinence products and other home health care supplies, is giving away a prize package every month this year with its "Get Back Into Life" sweepstakes. Seven winners picked from April entries can choose from three prizes, says Founder Lynn Wilson. Together, the prizes are valued at more than $750.
"Caregivers often tell us how frazzled they feel at times, so we created the 'Get Back Into Life' monthly sweepstakes to raise awareness of product and services that can help make their jobs easier," Wilson says. "The prizes we're giving away each month help seniors live more independently and gracefully in their homes."
Wilson says the seven prize winners can choose from what is available in these three areas:
Prize No. 1: One R.O.S. Legacy Bundle Package with Cushion. Activity Therapy Systems from R.O.S. are activity kits created to exercise the brain and stimulate memory skills and hand-eye coordination. They're beneficial for seniors and those with Parkinson's, Alzheimer's and developmental disabilities. The Bundle Package includes an activity console with carry tote, peg solitaire and tic-tac-toe inserts, puzzle board insert, pegs in carry pouch, book strap and carry bag, 8- by -10-inch magnetic puzzle, and wedge cushion. The Legacy Bundle Package is valued at $199.99.
Prize No. 2: One Akord Disposal System, a step-and-drop method of disposing of adult diapers, briefs, and other incontinence products cleanly and discreetly. Advanced odor-control features include liners on a continuous roll that can be cut and tied at any point, rubber-seal lid and spring-loaded trap-door system. The Akord Disposal System Starter Kit being given away is the large pail, which holds up to 10 small or medium briefs, plus eight bag refill packs. It's valued at $109.95.
Prize No. 3: Five R.O.S. Therapy Starter Kits. Each starter kit includes the activity console, peg solitaire and tic-tac-toe, and pegs. Like the Bundle Package, each kit comes with suggestions for multiple uses and activities. Five starter kits will be given away, each valued at $88.99.
To enter the sweepstakes, participants need only e-mail or mail a short statement by the end of April explaining how they or a loved one would benefit from the prize. To learn more about the two easy ways to enter and preview upcoming giveaways, visit The CareGiver Partnership "Get Back Into Life" sweepstakes page.
Read 5 tips for controlling odors resulting from urinary or bowel incontinence.
The CareGiver Partnership is a national direct-to-consumer retailer of home healthcare products for incontinence, diabetes, nutrition support and more. In its seventh year of providing products and services that help caregivers and loved ones maintain personal dignity, the company also offers an online library of more than 1,400 family caregiver resources and personal service by experts in caregiving. Call 1-800-985-1353 or visit online at http://www.caregiverpartnership.com.