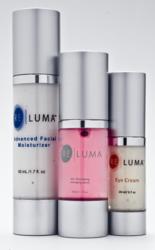 "Stem Cell Research is rapidly changing skincare as we know it" - Alana Mitchell
Newport Beach, CA (PRWEB) April 05, 2013
Vestiage, Inc., a leading anti-aging lifestyle company specializing in creating, acquiring, marketing and distributing highly effective, science-based anti-aging products, announced today its alignment with Skincare By Alana, the premier skincare experts of Southern California. Skincare By Alana is launching the availability of ReLuma's Stem Cell Anti-Aging line of science-based products, now available at their retail day spa location, Spa Alana, and online via the e-commerce platform at SkincareByAlana.com. The Reluma line, which contains the latest in stem cell science, is recommended for use in facials, after any kind of microdermabrasion (or other facial procedure), as well as for daily topical use. Vestiage, a public company, is a leading distributor of the Reluma line as well as other science-based highly effective anti-aging products.
Scott Kimball, CEO of Vestiage, Inc. said, "Skincare By Alana is a key premium retail and online client that is perfect to represent Reluma on the United State's West Coast. Skincare By Alana is a highly trusted brand with a prestigious clientele, all of whom rely upon Skincare By Alana to find the latest and greatest in products that really work. In addition, estheticians are available to assist customers in preparing a customized beauty regimen that caters to their specific needs. We know Alana and Jared Mitchell work tirelessly to seek out the best skin and beauty products available on the market, which is why working with them is an honor and a testament to the science and efficacy of our product line."
"Stem cell research is rapidly changing skincare as we know it," said Alana. "By utilizing the latest in adult derived stem cell growth factors, the Reluma Anti-Aging line is bringing the latest in science to our world, with products that contain high concentrations of active ingredients, including the peptide packed Reluma Eye Cream which contains a natural Botox ™ effect ingredient. Many products have only one peptide or a few peptides, and in lower concentrations. Reluma has several peptides and other ingredients in high concentrations. The results following use of the Reluma Serum, the Advanced Moisturizer, and the Reluma Eye Cream are simply stunning," Alana stated.
60 Minutes and Dr. Oz have recently aired segments highlighting the use of adult stem cells in medical science. The informed prestige consumer is becoming highly intelligent in this field and wants science and results. Leading plastic surgeons, dermatologists, and other skin care practitioners have begun recommending Reluma Adult Human Stem Cell-Based products to their prestige clients.
About Skincare By Alana
Skincare By Alana is a premier skincare company headquartered in Dana Point, California, providing personalized beauty and skincare to the clientele internationally. Alana Mitchell's day spa, also located in Dana Point, offers facials, waxing, microdermabrasion, peels, makeovers, and carries over 50 lines of skin care products in-store. Spa Alana can be found at 34255 Pacific Coast Highway, Dana Point, CA and 949-290-2294 or through the company website, http://www.skincarebyalana.com.
About Vestiage, Inc
Vestiage, Inc is a leading anti-aging lifestyle company focused on advanced science-based highly potent and effective cosmeceutical and nutraceutical products. Vestiage is a publicly traded company (Symbol "EMPZD") and was formed by a team of private equity and consumer products executives together with key company vendors and laboratories as a platform to create, acquire, market and distribute advanced anti-aging brands. For more information, go to http://www.LeaveAgeBehind.com.