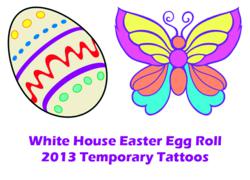 We are delighted that temporary tattoos are being used as an example of how non-sugary rewards can add to the fun of special events
Tucson, AZ (PRWEB) April 01, 2013
The 2013 Easter Egg Roll, taking place today on the South Lawn of the White House, is focused on promoting health and wellness with the theme, "Be Healthy, Be Active, Be You!" The event features live music, sports courts, cooking stations, temporary tattoos, storytelling and, of course, Easter egg rolling. The activities encourage children to lead healthy, active lives in support of the First Lady's Let's Move! initiative. In addition, official White House Easter Eggs, sold by NPF, are available at easter.nationalparks.org.
In keeping with the First Lady's initiative, 16,000 butterfly and decorated egg temporary tattoos, supplied by Tattoo Manufacturing International (TMI), offered a fun, kid-friendly alternative to candy treats during the day's festivities.
"Tattoo Manufacturing is proud to be a partner in the White House Easter Egg Roll," said Stephen Tooker, CEO. "We are delighted that temporary tattoos are being used as an example of how non-sugary rewards can add to the fun of special events."
About Tattoo Manufacturing
Tattoo Manufacturing, a division of TMI Acquisition LLC, is the largest manufacturer of temporary tattoos in the world. The company designs and manufactures all of its products in Tucson, AZ. Products are non-toxic, hypoallergenic, use FDA certified colorants and comply with CSPC/CPSIA and ASTM requirements. All products exceed US, Canadian and EU safety standards and have a worldwide reputation for quality. Visit our web site or call 1-800-747-8016 for more information.
About the National Park Foundation
The National Park Foundation, the official charity of America's national parks, raises private funds that directly aid, support and enrich America's nearly 400 national parks and their programs. Chartered by Congress as the nonprofit partner of the National Park Service, the National Park Foundation plays a critical role in conservation and preservation efforts, establishing national parks as powerful learning environments, and giving all audiences an equal and abundant opportunity to experience, enjoy and support America's treasured places. http://www.nationalparks.org.