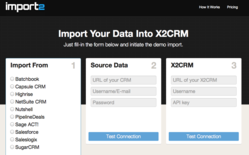 What used to be a difficult task of switching CRM systems just became a simple point and click procedure, said John Roberts, CEO of X2CRM.
Santa Cruz, CA (PRWEB) April 03, 2013
X2CRM, a new open source marketing automation and sales force customer information system(CRM) for small businesses, today announced the immediate availability of a new CRM data migration service powered by Import2. This new service automates the data import to X2CRM from CRM systems such as SalesForce.com, Zoho, SugarCRM, Highrise in addition to other CRM systems
"With X2CRM's new CRM import tool, customers can quickly and easily import their data from other CRM systems," said John Roberts, founder of X2Engine. "What used to be a difficult task of switching CRM systems just became a simple point and click procedure. Don't feel like you have to stay with your current CRM system just because it controls your CRM records."
The service is provided by Import2, pioneer of automated online data migration. It assures the integrity of all the user data as it supports import of all standard CRM objects, corresponding sales activity history and custom fields. "Import2 goal is to make users' transition between online services as fast and easy as possible," said co-founder of Import2 Mark Kofman. Import2 works with any X2CRM edition including Open Source and Professional.
Packaged X2CRM Data Import Connectors:
Salesforce.com
ZohoCRM
Highrise
SugarCRM
SalesLogix
SageAct!
Netsuite
Others
About X2EngineCRM
X2Engine, Inc. of Santa Cruz, California, was founded in 2011 by John Roberts, a SugarCRM co-founder and Customer Relationship Management software entrepreneur. The company provides software and cloud hosting services for X2CRM, a next generation open source, sales management system. X2CRM has been installed on over 4,000 public and private cloud servers across 130 countries.
X2Engine Inc. is headquartered in beautiful Santa Cruz, California, a short 40 minute drive from San Francisco International Airport. For a live demonstration, a detailed feature list and screenshot and video library please visit http://www.x2engine.com. X2Engine CRM takes advantage of the latest open source software including Apache, PHP, MySQL and Linux (LAMP).
About Import2
Import2 is the unique solution for automated migration of online data. We help individual users and companies of all sizes switch between online services (like CRMs, helpdesks or blogs) and import their old data with just a click of a button. Hundreds companies rely on Import2 to save money on complex migration projects and get rid of all worries associated with data import.