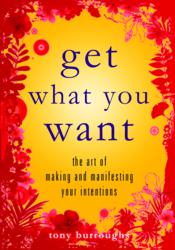 Get What You Want has been purposely set up to awaken something magical and mysterious within you.

— ForeWord Reviews
(PRWEB) April 02, 2013
Starting today, Get What You Want is available as an audiobook on Amazon, Audible, and iTunes. Tony Burroughs has been spreading his tenets of intention-setting for the past twenty years, and has developed a worldwide community that helps people achieve their goals and dreams.
Tony will be sharing words of inspiration in several exclusive upcoming interviews:
5/29 Energy Awareness Radio with T Love 3-4pm PST
7/13 Exploring Unexplained Phenomena on KZUM Radio with Scott Colborn 8:30-10:30am PST
Support Life, Seek Truth, Set Your Course—so begins The Code, the set of principles that have guided Tony Burroughs and that he has spent the last two decades sharing with the world. In Get What You Want, Burroughs has gathered together the tenets of The Information for the first time. At the core of these teachings is conscious manifesting—collecting your desires in a context "for the highest good" and stating them aloud to a consistent and supportive circle of fellow intenders. Burroughs has been sharing this technique since he left Kona in the 90s and there are now more than a million people all over the world who meet regularly in Intenders Circles and manifest all they can imagine. The network is knitted together in a grassroots association called The Intenders of the Highest Good.
Tony Burroughs is an author, storyteller and a cofounder of The Intenders of the Highest Good, a grassroots community movement with Intenders Circles in countries all over the world. Also the author of the popular daily email message called The Intenders Bridge at intenders.org. Burroughs lives in Mount Shasta, California.