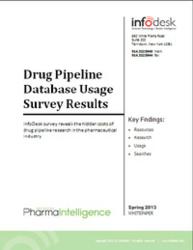 Much of the commercial data remain heavily siloed, and therefore, very hard to integrate with internal knowledge.
Tarrytown, MY (PRWEB) April 02, 2013
The pharmaceutical industry needs simpler and more cost-effective way of conducting complex drug pipeline research across multiple databases, including internal data, according to a recent white paper from InfoDesk. As a corollary, the white paper foresees a continuing demand for information professionals with drug pipeline research expertise.
The white paper's findings are based on InfoDesk's survey of members of the Special Libraries Association's Pharmaceutical and Health Technology (PHT) Division about their drug pipeline data management and research.
InfoDesk asked PHT members, particularly employees, contractors and consultants of pharmaceutical companies who are responsible for using commercial and/or internal drug pipeline databases on a regular basis to complete a short survey. The survey asked what types of research they are doing, what resources they use, and how much time they are spending on drug pipeline data searches.
An article about the results by Sean Smith, Vice President of Marketing at InfoDesk will be published next week in CapLits, the PHT Division newsletter. To make the article available to a wider audience, InfoDesk has republished the article as a white paper available for download online.
"Aside from revealing just how time-consuming drug pipeline research can be," said Sterling Stites, CEO of InfoDesk, "one of the most interesting findings was how few of the respondents said they are using internal data sources as part of their analyses." According to Stites, this points one of the biggest problems for pharmaceutical companies: "Much of the commercial data remain heavily siloed, and therefore, very hard to integrate with internal knowledge."
As the survey results suggest, the net result is that drug pipeline data management and research is a very costly and time-consuming proposition. Further, the time and skill required to conduct drug pipeline research limits many companies' ability to conduct pipeline and corporate research, monitor competitor activity and analyze pipeline performance.
"Ultimately," said Stites, "all of this can only hamper drug development—and that's not good for anyone."
To remedy this, InfoDesk recently introduced PipelinePlus, the first module of the InfoDesk PharmaIntelligence platform. PipelinePlus is a solution that will make it much easier for information professionals to simultaneously manage multiple drug pipeline resources–including all licensed pipeline products and internal data sources. Learn more about PipelinePlus.
The InfoDesk PharmaIntelligence platform is a whole new approach to integrating, filtering, analyzing and sharing critical biomedical intelligence. Unlike other solutions, InfoDesk PharmaIntelligence is wholly "content neutral," allowing users to combine and analyze virtually any type of pharmaceutical information, including pipeline data, clinical trials, patent information and more.
About InfoDesk
InfoDesk (http://www.infodesk.com) specializes in information management solutions that help organizations integrate, deliver and share content resources more quickly, cost effectively and securely. For more than 13 years InfoDesk has helped some of the largest multinational corporations, top government agencies and media companies integrate, deliver and share large volumes of information more effectively. InfoDesk is based in Tarrytown, NY with offices in London and Washington DC.