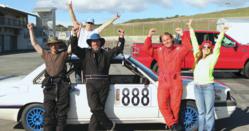 Morgan Hill, CA (PRWEB) April 01, 2013
Nearly a month ago, the team at Andy's Auto Sport had embarked on an ambitious journey to build a racecar to compete in the Chump Car Racing Series. The chosen car was an Audi 4000S which hadn't run in 5 years. Nevertheless, the team was confident that, with some work, they would be able to run the old four-door sedan in a race which, despite being known as an easy-going kind of event, gets quite competitive.
With little more than a week to prepare, it was always going to be a tough mission to accomplish, but with Geoff Phillips, Bill Guzenski and his father, Bill Sr. piloting the charge, success was inevitable. The first order of business was the rollcage; a stunning example executed by nearby Pacific Fabrications. Afterwards, the team fitted a bright-red Cipher Auto racing seat, cleaned out the interior, added some pads and rotors from SP Performance, painted the wheels blue and addressed some wiring and engine issues. With just three days before the race, the car was spotless and nearly complete. But as ever with racing, there is always something unexpected to be dealt with.
Once making it down to the beautiful Mazda Raceway Laguna Seca in Monterey, the team, now consisting of Bill, Bill Sr., Geoff, Tommy Parry and Alex Guzenski, conferred on what needed to be done. The team was in need of window nets, connections to the Optima battery, harnesses and a seat-support bar, all of which was done with the assistance of the friendly Chump Car organizers. Working into Saturday evening, the team managed to get the car finished as the night set in and everyone went their separate ways.
Team Andy's Auto Sport arrived Sunday morning fashionably late. Once they had organized themselves, the finishing touches to the car were done courtesy of the two Bills and resident Gran Turismo specialist Geoff took the first stint. Considering Geoff had no on-track experience, his lap times were impressive - some of the lowest the team recorded that day. After an hour, Tommy Parry hopped in and continued to explore the limits of the car, having a great time and managing to exchange paint with a car or two. Alex, a former go-kart champion, took the third stint and put some great laps in what was his first race in a full-bodied car.
Next, the two Bills took their turns at the wheel. Seeing their creation slugging it out on the track was fantastic for them both. They noted the car handled well but lacked power. Following this, Tanya Dubrul, Andy's production assistant and cinematographer arrived and was convinced to go drive the car, though she had planned only to take photos. This drive would mark her first racing laps, and she came back beaming, remarking on the aggression of the other drivers. Tanya is admittedly mild-mannered behind the wheel, but by getting into a race so impulsively she showed her bravery.
Geoff, Tommy and Alex performed the final three stints and come out tired, sunburned and ecstatic - their little Audi-that-could made it all the way to the finish line. Of course, with one of the few 'stock' vehicles entered in the race, the team had no hope to finish on the podium, but their participation and longevity was a success in itself. With the exception of a radiator-to-overfill bottle line being cut by the fan, the car showed no mechanical problems. Most importantly, Andy's Audi 4000S had lived to fight another day and everyone was thrilled to have had the opportunity to participate in such a great event.
For more information, visit AndysAutoSport.com, AndysAutoSportTV.com, or YouTube.com/AndysAutoSportTV.
Andy's Auto Sport is an online retailer and wholesaler of OEM and aftermarket automotive parts and accessories, and is the largest retailer of aftermarket body kits in the world, with more than 2 million unique online visitors per month. The company serves customers worldwide and has been featured in magazines such as Import Tuner, Modified, Low Rider, Truckin', as well as on television shows such as Pimp My Ride, Street Fury, Trucks!, and Two Guys Garage.