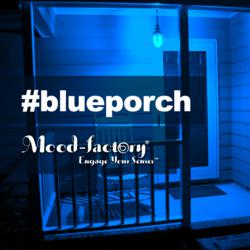 "Mood Factory's campaign will be a big help in Autism Speaks' efforts in Chicago and all over the country." — Katrina Mesina, Senior Coordinator for the Chicagoland Chapter of Autism Speaks.
Chicago, IL (PRWEB) April 02, 2013
Mood Factory, marketer of Mood-lites sold at Lowe's Home Improvement Stores nationwide, announces its first-ever social media campaign on Pinterest to benefit the Chicago Chapter for Autism Speaks. Throughout World Autism Awareness Month this April, Mood Factory is donating $1, with a maximum of $5,000, to the Chicagoland Autism Speaks Chapter for every re-pin of Mood Factory's #blueporch photo with the hashtag.  The Chicago Autism Awareness Chapter is kicking off the campaign with a Light It Up Blue event at The Bean in Millennium Park at 7 pm on April 2, turning the Chicago Skyline Blue in honor of World Autism Awareness Day.
 
"We're delighted to welcome this new partnership," said Liz Klug, Midwest Regional Director for Autism Speaks. "We're happy to welcome Mood Factory to shine a bright light on autism, which affects 1 in 88 American children, and research shows this number that the prevalence is growing.  We were drawn to the idea of a Pinterest campaign as a way to raise money and awareness, while actively engaging our supporters in a very visual way.
 
Kathryn Goetzke, President of Mood Factory, states "It is incredible what Autism Speaks has done in the past few years by consistently and repeatedly using the Tranquility Blue color.  Research has shown that if non-profits associate a specific color with their cause, and reinforce the message through multiple outlets over time, consumers are more likely to remember the specific message.  This 'Light It Up Blue' event is a great way to increase consumer engagement by encouraging individuals to light their front porches blue, and ultimately raise money to change the future for everyone who struggles with autism, so we are thrilled to help them through our Tranquility Mood-lites in their overall mission."
 
"Mood Factory's campaign will be a big help in Autism Speaks' efforts in Chicago and all over the country," said Katrina Mesina, Senior Coordinator for the Chicagoland Chapter of Autism Speaks. "They've really stepped up to shine a bright light on autism this April, and they'll be a key partner throughout World Autism Awareness month.  People pinning the #blueporch photo to help raise money for our chapter is a great way to participate in this global initiative."
 
This is the fourth year Autism Speaks has been running the Light It Up Blue campaign, and the first year Mood Factory has been involved. Last year, over 3,000 buildings and landmarks were bathed in bright blue light to support the campaign, which draws interest and donations from all over the globe.  Mood Factory's goal this year is to get consumers engaged by pinning the photo and ultimately purchase the Tranquility Mood-lites at Lowe's Home Improvement stores, illuminating their neighborhoods to create community discussions leading to discussion and activism about the growing disorder.
 
Mood Factory has already donated $1,000 to the Chicagoland Chapter of Autism Speaks as the Tanzanite Sponsor for the Illuminate event at the Joffrey Ballet on April 6.  This sold-out event includes appearances from WGN'S Ted Brunson, Miss Heart of Illinois 2013 Marisa Bucheit, and Light it Up Blue co-chairs Eric and Laurie Chern.  Mood Factory is also guaranteeing a minimum donation of $2,500 for the Pinterest campaign, joining the Chicagoland Chapter on April 2nd at the Millennium Park Bean at 7 pm helping to kick-off the Light it Up Blue Campaign.  For more information about the Pinterest Campaign, visit http://mood-factory.com/coloring-lives/autism.
About Mood Factory:
Innovative Analysis dba Mood-factory, a Maryland-based Corporation now with offices in Oak Park IL, is a dedicated to improving moods one sensory experience at a time. Mood-lites, the first product line for the company, are based on how colors affect moods and are available nationwide in Lowe's Home Improvement Stores. To find out more about engaging your sense, visit http://www.mood-factory.com.
About Autism Speaks:
Autism Speaks is the world's leading autism science and advocacy organization. It is dedicated to funding research into the causes, prevention, treatments and a cure for autism; increasing awareness of autism spectrum disorders; and advocating for the needs of individuals with autism and their families. Autism Speaks was founded in February 2005 by Suzanne and Bob Wright, the grandparents of a child with autism. Mr. Wright is the former vice chairman of General Electric and chief executive officer of NBC and NBC Universal. Since its inception, Autism Speaks has committed more than $195 million to research and developing innovative resources for families. Each year Walk Now for Autism Speaks events are held in more than 100 cities across North America. On the global front, Autism Speaks has established partnerships and related activities in more than 40 countries on five continents to foster international research, services and awareness. To learn more about Autism Speaks, please visit AutismSpeaks.org.