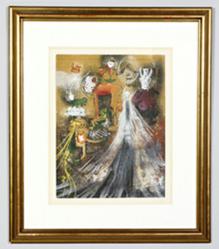 Beverly, MA (PRWEB) April 02, 2013
An exemplary etching from the famous Chilean artist Roberto Matta will be among the many great pieces offered for auction this Sunday, April 7th at Kaminski Auctions. Matta first studied architecture in Chile before moving to Europe and working with famed architect Le Corbusier. From there, his interest turned towards painting. As Matta met such influential avant garde figures as Gertrude Stein, Marcel Duchamp, Walter Gropius, Salvador Dalí, Federico Garcia Lorca, and André Breton, he developed his unique biomorphic style. Matta found his niche within the surrealist movement, creating energetic "inscape" paintings depicting a subconscious inner world. Lot 5490A, an etching entitled "Volcano," captures the organic forms and volatile movement that characterize Matta's work. The colorful and vigorous etching is estimated at $4,000 to $7,000.
This weekend's diverse auction will also offer an exquisitely constructed Koppen-Bollinger Helio Aircraft model. This large scale mahogany and mixed wood model is a rare glimpse into the formative moments of jet engine design. This early jet was developed for the Koppen-Bollinger Aircraft Corporation during the late 1940s and early 1950s to compete with the jet that would ultimate dominate the field: the Boeing 707. Lot 5189 comes complete with four early style model jet engines, moveable trailing edge surfaces, and the twin-turbo propellers and landing gear that were originally mocked up on the model. The model most likely served an active role in the switch to jet engine powered planes, and has remained in the possession of individuals associated with the company until now. Kaminski Auctions received this model directly from a high level employee of General Aircraft, which acquired Koppen-Bollinger in 1969. The plane will be offered at $4,000 to $6,000.
These two exciting lots will join works by Hepworth, Turnbull, Le Corbusier, and others in Kaminski Auctions' upcoming April 7th Twentieth Century Art and Design Auction, beginning at 10:00am. For more information about these and other lots visit kaminskiauctions.com or call 978.927.2223.
KAMINSKI
Kaminski Auctions, located on the North Shore of Boston, has been serving the New England antiques market for over 25 years as a full service auction house and appraisal service for fine art, antiques and estates.
With two locations in Beverly, Massachusetts, including a new state of the art auction gallery located at 117 Elliott Street, and a historic 1850's barn and office facility at 564 Cabot Street, Kaminski Auctions hosts 25 auctions a year.
In today's highly competitive market of fine art and antiques, Kaminski Auctions provides its customers with bicoastal services and marketing with west coast offices in Beverly Hills and San Diego, California.
Kaminski Auctions offers specialty departments in Asian Art and Antiques, Silver, Glass and Lamps, Couture and Vintage Clothing, Photography and Modern Design . We have highly trained and knowledgable appraisers on staff that will help you determine the true value of your antiques, or entire collections. Free Appraisal days are offered every Tuesday from 10:00am-4:30pm at our 564 Cabot Street location in Beverly, Massachusetts & our 5171 Santa Fe Street location in San Diego, California. We welcome emailed photos of your items!
Contact Harry Morgan - hmorgan(at)kaminskiauctions(dot)com