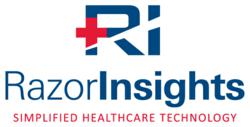 Kennesaw, Georgia (PRWEB) April 02, 2013
RazorInsights, a leading provider of fully-Integrated, SaaS-based health IT solutions for Rural, Critical Access and Community hospitals, announced today that Karl Kiss is joining as Vice President of Sales and Marketing. The focus of this position will be growing and managing the sales organization and overseeing RazorInsights' brand management strategy.
Kiss, who has worked for Siemens since 1995 and in healthcare IT since 1987, brings RazorInsights broad experience in healthcare software sales and a track record of reaching sales goals and delivering shareholder returns.
"We are extremely excited to bring Karl Kiss onboard to manage our sales and marketing efforts. He has a proven history of success and we feel that he's a great fit within our organization's culture and our team-based approach," said CEO and co-founder Reed Liggin.
Kiss is equally excited about the opportunity and looks forward to the challenge RazorInsights has put before him, saying, "RazorInsights has accomplished a great deal in a very short amount of time, and I believe that we are well positioned for growth. This is a time of tremendous change in our industry; these Rural and Critical Access hospitals are under a great deal of pressure to maintain financial stability, address meaningful use, and best serve their local community's healthcare needs. RazorInsights has developed an incredibly robust and cost-effective solution for Rural and Critical Access hospitals. I look forward to building on their success and helping them reach their long-term goal of being the leading health IT provider to small and medium-sized hospitals."
RazorInsights offers ONE Enterprise HIS Solution—a complete SaaS-based clinical and financial solution delivered via the cloud—and residing on a truly integrated, single database. RazorInsights is currently developing its Ambulatory/PM piece for associated outpatient clinics.
About RazorInsights:
Based in Kennesaw, Georgia, RazorInsights is a dynamic healthcare information technology company. In keeping with the principle of Occam's Razor, they have created a simplified HIS solution for Rural, Critical Access and Community hospitals. Introducing ONE (ONC-ATCB 2011/2012) — a single-database, cloud solution offering a simple user experience with cutting-edge clinical tools and industry-standardized data. Hospitals can expect to improve their performance and bottom line with ONE from RazorInsights. For more information, visit razorinsights.com or call 770-308-4111.