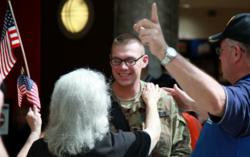 The USO of Georgia has been at Atlanta International Airport since 1970. We were here for our troops before the chartered R&R program, and we will continue to be here for them now.
Atlanta, GA. (PRWEB) April 01, 2013
There were tears, smiles, handshakes, American flags and of course, lots of hugs as USO volunteers and staff welcomed the last chartered flight to the Hartsfield–Jackson Atlanta International Airport today. April 1st marks the end of the military's chartered rest & relaxation (R&R) flight program as troops will now fly commercial aircraft and no longer be routed through Atlanta. USO of Georgia was on hand to welcome troops home and pledge their continued support for service men and women and military families.
"The USO of Georgia has been at Atlanta International Airport since 1970. We were here for our troops before the chartered R&R program, and we will continue to be here for them now," said Mary Lou Austin, President and CEO of USO of Georgia. "Although our staff and volunteers have enjoyed supporting these brave men and women during their travels, there will be others that will need our support here. The USO will continue to be by the side of our nation's heroes and military families."
The R&R program is not ending, but the way the military travels will change, no longer requiring troops serving in the Central Command region to take chartered flights home from Kuwait with a stopover in Atlanta before reaching their destination. Instead, troops will be given a ticket to board a commercial airliner and have the option of traveling directly to their destination.
"The change will improve operational readiness by reducing soldier travel days and improve soldier quality of life by providing them with the most direct means of commercial transportation to their final leave destinations of choice," said Army spokesman Hank Minitrez.
More than a dozen USO staff and volunteers waved American flags, offered cheers of "welcome home" and thanked the troops for their service as they exited the terminal to be reunited with their loved ones. For many of the USO volunteers today was bittersweet. The conclusion of the R&R program means an end to long lines of troops at the USO Center, but volunteers are encouraged by the work they will continue to do to support military and their families at the airport and throughout the state of Georgia.
With its centralized location just hours away from some of the military's largest training installations as well as permanent military locations, USO of Georgia serves thousands of military and their families annually. They have also adapted to meet the needs of those returning service men and women living with visible and invisible wounds of war. Through programs and partnerships like USO/Hire Heroes USA Transition workshops to help wounded service men and women transition to civilian employment and family outings providing an opportunity to reconnect and learn to cope with their "new normal". USO of Georgia staff and volunteers also have the somber honor of escorting military families en route to meet their fallen soldier at Dover Air Force Base in Delaware. The USO Center at the Atlanta airport is located on the third floor of the atrium. USO of Georgia also operates locations at the Hilton Head International Airport in Savannah and Warner Robbins Air Force Base.
To learn more about USO of Georgia visit http://www.usogeorgia.org or to learn more about USO's work in support of wounded, ill and injured troops and their families visit http://www.uso.org.
###
About the USO
The USO lifts the spirits of America¹s troops and their families millions of times each year at hundreds of places worldwide. We provide a touch of home through centers at airports and military bases in the U.S. and abroad, top quality entertainment and innovative programs and services. We also provide critical support to those who need us most, including forward-deployed troops, military families, wounded warriors and families of the fallen. The USO is a private, non-profit organization, not a government agency. Our programs and services are made possible by the American people, support of our corporate partners and the dedication of our volunteers and staff.