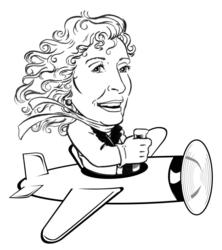 "Immerse yourself in a spirited and soulful world."
San Francisco, CA (PRWEB) April 02, 2013
Lynn Cook Henriksen is currently inspiring Baby Boomers to honor mom and dad through writing short memoirs by answering this question, "If you could tell just one small story that would capture your mother's or father's character to keep spirits alive into the future, what would it be?" It is all about "Keeping Spirits Alive" on the wildly popular BoomerCafe April 2, 2013.
As a soulful teacher, Henriksen takes daughters and sons on journeys through emotional terrain to access the deepest spiritual truths of intimate relationships via the award-winning guidebook, "TellTale Souls Writing the Mother Memoir: How to Tap Memory and Write Your Story Capturing Character & Spirit."
Writing stories from the heart has writers and would-be writers tapping memory and crafting revealing bio-vignettes, true stories, that have the power to move people and change awareness.
Become immersed in a spirited and soulful world where creative techniques, designed to trigger unexpected impressions and show people, from all walks of life, how to move memory into memoir, has them writing impressionable stories only they can write.
Praise for the book: "Memoir is tricky business. It requires allegiance to the truth and, at the same time, the ability to craft a compelling story. Questions arise: How to access memory? What is important? What about sequencing? Where it the borderline of fiction? Through TellTale Souls Writing… Lynn Henriksen dissects the idea of memoir into its many invisible parts and shows us a framework for making it all come together. She gives activities, prompts, examples and if we worry the process is becoming too mechanical, passes along advice as to how to go about accessing the deepest spiritual truths. In the end, and with her guidance, we might not only make literature out of memory but be blessed with unexpected enrichments of spirit." —H. David Watts, M.D., author of "Bedside Manners" and "The Orange Wire Problem and Other Tales from the Doctor's Office"
Lynn Cook Henriksen, aka The Story Woman, is the founder of "TellTale Souls," an enterprise promoting writing memoir creatively through workshops, story salons, speaking presentations, and her new award-winning guidebook, "TellTale Souls Writing the Mother Memoir: How to Tap Memory and Write Your Story Capturing Character & Spirit." The book demystifies the writing process for people new to writing, and professional authors will encounter abundant food for thought and innovative techniques to get their creative juices flowing. As an intuitive leader, Henriksen discovered a profound way to keep spirits alive after witnessing Alzheimer's disease ravage her mother's mind. She has helped hundreds of daughters and sons capture in brief memoirs the memories and feeling they never thought they could record.
Contact:
Lynn Henriksen, Public Relations
TellTale Souls/The Story Woman
(415) 435.6000
publisher(at)indigoroadspress(dot)com
http://www.telltalesouls.com/blog/
Peruse "TellTale Souls" Book