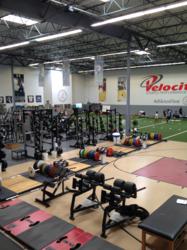 We share the same passion to deliver high performance products to elite athletes" said Bryan Smeltzer, GM, ZAMST US.
Newport Beach, Calif. (PRWEB) April 03, 2013
ZAMST, a leader in high-performance sports bracing and support equipment, announced today a nationwide sponsorship with Velocity Sports Performance. With this partnership ZAMST will leverage its extensive product knowledge, and injury prevention expertise to assist Velocity Sports Performance centers in supporting their elite athlete needs.
"With Zamst being a premier sports bracing/supports equipment brand, our alliance with Velocity Sports Performance was a natural partnership. We share the same passion to deliver high performance products to elite athletes" said Bryan Smeltzer, GM, ZAMST US. "Whether training or during competition, ZAMST sports bracing and support products provide a superior level of protection and prevention, and aligning with Velocity who excels at training the best athletes in the world across multiple sports, allows us to demonstrate the superiority of our products."
With over 40 sports performance center on a national level, and a 14 year heritage, Velocity Sports Performance is the premier training platform for elite athletes across the US.
"We're excited to partner with Zamst, "said Peter Barbaresi, President and CEO of Velocity Sports Performance. "Their quality products fit perfectly into our High Performance model, which includes offering specific solutions to our athletes in the areas of sports medicine, physical therapy and rehabilitation, in addition to our core training service. This strategic relationship should result in continued growth for both organizations here in the U.S."
ZAMST has been outfitting elite athletes across the world with prevention and injury solutions for over 20 years. With an extensive heritage in the medical field, ZAMST created the product line through rigorous development, and consultations with doctors, trainers and elite athletes to ensure high performance functionality.
As part of the sponsorship, ZAMST will be provide, sport specific, high performance products to Velocity Sports Performance centers, in addition to injury prevention and rehab seminars, print and marketing activities.
ZAMST
ZAMST is a market leading brand of sports bracing/support equipment, and is used by professional athletes worldwide. ZAMST offers a full line of premium injury prevention and protection sports bracing and supports products, featuring anatomically correct designs, high performance materials and superior construction. ZAMST is a division of the NIPPON SIGMAX Co., Ltd (Tokyo, JAPAN) with privately-held, wholly owned subsidiary corporations, SIGMAX AMERICA (Newport Beach, CALIFORNIA), SIGMAX EUROPE (Annecy, FRANCE) and SIGMAX CHINA (Shanghai, PRC). For more information, call toll free 877-ZAMST-US (877-926-7887) or visit http://www.ZAMST.us.
Velocity Sports Performance
Velocity Sports Performance (http://www.velocitysp.com) is the premiere athletic performance training organization in North America. For 14 years, Velocity Sports Performance has helped hundreds of thousands of athletes maximize their athletic potential. Velocity helps athletes achieve their goals by developing strength, power, coordination, agility, speed, flexibility, and energy systems with an additional focus on injury prevention, recovery/regeneration, and nutrition. There are nearly 40 Velocity Sports Performance training facilities across the United States.