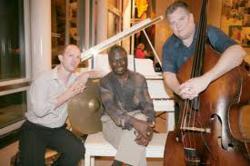 Check out the compelling music of the John A Lewis Trio" Darrell Thomas Sandaga 813
Dallas, TX (PRWEB) April 05, 2013
The Dallas-based John A. Lewis Trio will bring their unique style of jazz to the Sambuca Uptown restaurant located at 2120 McKinney Ave across from the Ritz and Crescent Hotels in the heart of Uptown Dallas Tuesday April 9th 7:00 until 11:00 pm.
The Trio consists of composer/pianist and leader John A. Lewis, bassist Lincoln Apeland and drummer Merik Gillett.
The Trio has been performing together in the Dallas Ft. Worth area for over three years. They have performed at jazz clubs, restaurants and private parties and in concert at such venues as The Sammons Center for the Arts, Sandaga 813 and the Dallas museum of the Arts. And they just completed a successful two month engagement at Inwood Lounge.
The Trio's repertoier consists of jazz standards, show tunes with a fresh twist, latin flavored tunes and music from their recently critically acclaimed recording "Progenation" Valarteri no. 008 2010.
The Trio's has a style that has been described as "hypnotically pleasant" jazzinsidemagazine July 2012. There is however an edge to their music. The music is compelling but not over powering.
April is D-jam Jazz appreciation month in Dallas and this would be a good time to check out one of the finest jazz trios in the city.
You can follow the John A. Lewis Trio on Facebook and Twitter. You can also visit the John A Lewis website at http://www.johnalewisjazz.com.