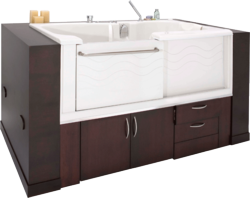 This special sales event will offer customers deep discounts on walk in bathtubs and handicap shower stalls.
New York, NY (PRWEB) April 02, 2013
Aging Safely Baths, an innovative supplier of handicap shower stalls and walk in bathtubs announces a sales event on several of the top senior bathtubs. This special sales event will offer customers no cost hydrotherapy upgrades on select models which include water and air jetted systems.
According to Aging Safely, they will also be offering shoppers' additional savings that will allow the company to publish before and after photos of their handicap shower stall or walk in tub installation. The photographs will be used for marketing purposes in order to help promote senior products and walk in bathtubs installed by the company.
Several of these unique products are specially designed for people with mobility restrictions and the elderly. Traditional bathtubs can be difficult for some people to enter and exit, given the high threshold that one must maneuver their leg over. Walk in bathtubs and handicap shower stalls can be an essential appliance for those considering aging in place products and resources on fall prevention. It is pretty common for the elderly to have a fear of falling in the bathtub, for many these products can potentially add a sense of security while bathing
Senior citizens can especially be prone to having a fall in the bathtub and potentially benefit greatly from having a step in tub. The modest costs associated with installing walk in tubs, or handicap shower systems typically pale in comparison to the high costs associated with monthly assisted living expenses, or even a serious injury related to a fall in the bathtub. These specialty walk in bathtubs are very popular due to the tremendous potential benefits of hydrotherapy and the low step in feature.
Homeowners that are looking to remodel their bathroom may want to consider one of the custom color options available. Customers can provide a swatch of color to have their wheelchair access shower or walk in bathtub match the decor of their bathroom perfectly. The handicap shower system can be customized even further, whereas customers can have elaborate tile patterns created to order.
For this special sales event, the company will also be offering shoppers who purchase walk in tubs or handicap shower stalls two safety grab bars at no additional cost. It is very common to place the grab bars in difficult to maneuver areas, many times just adjacent to the step in tub door.
In addition to the company's industry leading warranties; many of the walk in bathtubs offered are certified by third parties to further ensure quality standards are met. The company does offer no cost or obligation consultations in order to help customers decipher the proper appliance for their unique situation and needs. Aging in place organizations, contractors and builders are also invited to contact Aging Safely for this special sales event on walk in tubs.
Contact Information:
Zach Wennstedt
1-888-779-BATH(2284)
info(at)agingsafelybaths(dot)com