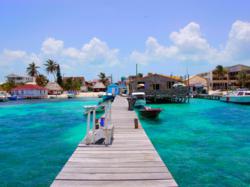 I think it's safe to say that Belize is no longer a secret. - Ms. Fleming Bradley
(PRWEB) April 02, 2013
Belize's Ambergris Caye has been voted the "world's best island" by contributors to TripAdvisor, taking the top spot from more well-known island paradises such as Bora Bora and Thailand's Koh Tao and cementing Belize's reputation as one of the world's top travel destinations, according to one of the little country's most popular eco resorts.
The Lodge at Chaa Creek's assistant general manager, Bryony Fleming Bradley, said she wasn't surprised that Belize's largest island is now one of the world's most sought-after vacation spots.
"Not very long ago, when you said you were from Belize, people would ask, 'where's that?' Now they usually say, 'wow!' The word is definitely getting out," Ms. Fleming Bradley said.
TripAdvisor's list of the world's ten best islands is based on millions of reviews and ratings contributed by international tourists to the travel website over the past year.
According to TripAdvisor spokeswoman Emma Shaw, "Ambergris Caye boasts spectacular caves, winding waterfalls, tropical rainforest and hundreds of limestone caves," to make it the most attractive island destination in the world.
Ms. Fleming Bradley said positive word of mouth among travellers has always been Belize's best advertisement.
"As a small developing country, Belize never had a marketing budget to match any of the world's more popular destinations, which is one of the reasons why the Belize Tourism Board always referred to the country as 'Mother Nature's Best Kept Secret'. However, as we see on a daily basis at Chaa Creek, visitors are always taken with the incredible natural beauty and warm, friendly people we're blessed with, so it was only a matter of time before word got out."
Ambergris Caye sits next to the World Heritage-listed Belize Great Barrier Reef, the second largest in the world, and is close to the Blue Hole, a diving and sightseeing Mecca made famous by Jacques Cousteau's documentaries. It topped a list that included the US Virgin Island's St John and Bora Bora in French Polynesia, which came in second and third respectively, followed by, in order, San Juan Island (United States) Santorini (Greece), Isla Mujeres (Mexico), Moorea (French Polynesia), Koh Tao (Thailand), Easter Island (Chile) and Nosy Be (Madagascar).
"It's great to be at the top of the list of such beautiful, romantic island getaways," Ms. Fleming Bradley said, "and I think it shows that having a great product is more important than an expensive marketing campaign or relentless media coverage. Here at Chaa Creek we've always said that happy guests are the best advertisement you can have, and that's certainly proven true over the years."
Ms Fleming Bradley said that a new local air service connecting Chaa Creek to Ambergris Caye allows guests easy access to the island from Chaa Creek's 365 acre private nature reserve, giving travellers the opportunity to experience the inland jungles and ancient Maya temples along with the stunning Caribbean coast and islands in one affordable Belize vacation package.
"With Ambergris caye now just a short hop from Chaa Creek, our guests can go from the pristine rainforest with all the activities and tours we offer here to what is now recognised as the world's best island in one very easy all-inclusive Belize holiday package. That means for one set price people can take in everything that is making Belize one of the most talked about destinations in the world."
"I think it's safe to say that Belize is no longer a secret," Ms. Fleming Bradley added.