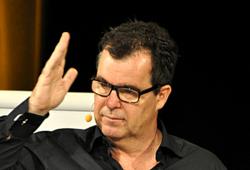 It is flattering in some ways to see my methods of buying and selling property in the UK being espoused by others
London, England (PRWEB) April 02, 2013
This year marks the 10th Anniversary of Rick Otton's introducing property options to the UK real estate scene. In an interview today he reflected on that period in 2003, the creation in 2008 of his 'Buy A House For A Pound' strategy, and his forthcoming 3 day real estate conference.
Over the last 10 years, he says, he has seen self-proclaimed property and investment gurus - many of whom initially learned their strategies from him - come and go.
"I created my property options process for buying and selling real estate in the USA back in 1991, right in the middle of the Savings & Loans Crisis, when no-one could get a loan to buy property," explained Mr. Otton. "But I wanted to purchase, so I found work-arounds that allowed me to do just that, legally and without bank involvement."
In the following years Mr. Otton refined and grew his real estate investing techniques, amassing an impressive property portfolio in the US, Australia and the UK. It was in 2003 that he introduced his 'property options' to the UK property investing public.
"The Australian and UK systems of buying and selling real estate are similar, so it wasn't difficult to apply to the UK what I was doing in Australia" he said. "In 2008 I then launched my 'Buy A House For A Pound' strategies, upon which my team and I continue to build."
Otton has coached thousands of people in the UK on how they can build solid real estate investing businesses by giving both buyers and sellers what they need, and streamlining the process by cutting out the middleman - the banks.
Others who have studied the property options methods that Mr. Otton introduced have gone on to position themselves as self-proclaimed 'property masterminds'.
"It is flattering in some ways to see my methods of buying and selling property in the UK being espoused by others," said Mr. Otton. "But in other ways, it is of concern, because all too often these people are 'strategy learners', not 'strategy creators', who may fall behind in delivering mentorship on the emerging strategies that will see their students prosper."
To mark the 10th Anniversary of his introduction of property options to the UK real estate market, Mr. Otton has released a free webinar recording in which he answers the hottest topics in the UK market right now.
Details of the webinar are at http://www.RickOtton.co.uk.
About Rick Otton
Rick Otton has spent decades making money by snapping up inexpensive real estate and putting it to work building wealth, and teaching others to do the same.
He is the founder and CEO of We Buy Houses, which operates in the US, UK, Australia and New Zealand, and through this business he puts his strategies to work every day.
Mr. Otton received his start in alternative real estate investment in 1991 in the US, and within a year acquired 76 properties. In subsequent years, he made a fortune using his low-risk, high-reward strategies to inexpensively acquire real estate. He continues to do so.
As well Mr. Otton travels between his home in Australia, and the UK, sharing his wisdom and teaching others how to buy and sell real estate, free from the constraints imposed by traditional lenders.
In 2013, Rick is celebrating the 10 year anniversary of introducing his property option strategies to real estate investors in the United Kingdom - the first person to reveal these ground-breaking strategies. In 2008, he created the first of his 'Houses for a Pound' strategies, upon which he grows as markets and laws evolve.
Mr. Otton has been featured in a variety of television programs and magazines and in 2013 he published 'How To Buy A House For A Dollar' for the Australian market. This book has been named in the list of the Top 10 Most Popular Finance Titles for 2013, as voted by Money Magazine and Dymocks Book stores. A UK version is on the drawing board.
Details of Mr. Otton's UK Zero-Debt Property Cashflow Conference can be found at RickOtton.co.uk