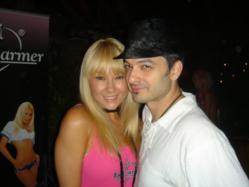 Xuma's new report on dating tips for guys points differences to show men how to ditch jerk characteristics and focus on the alpha male traits within them.
San Mateo, CA (PRWEB) April 09, 2013
Walking the fine line between being an alpha male and being a jerk might just be the secret to dating success, says Dating Expert Carlos Xuma in his new report on dating tips for guys.
"After interviewing hundreds, maybe thousands of guys over the years, it has become increasingly clear that the secret to success with women is knowing how to successfully traverse that fine line between being a jerk and being an alpha male," Xuma says in his report. "The problem is that most men have no clue how to differentiate between the two, nevertheless walk that fine line between them."
The problem, says Xuma, is that there definitely is some overlap between alpha male traits and jerk characteristics. But ultimately a guy can only be one or the other, he says.
"An alpha male could care less what other people think about him," he says. "And guess what? A jerk could care less what other people think about him. So what's the difference? The difference is the alpha male's nonchalance about what others think springs from a solid foundation of self-confidence. He doesn't care what others think because he likes himself and knows that if someone else doesn't like him, it is the other person's problem. A jerk, on the other hand, doesn't care what other people think because he is selfish and knows exactly why other people don't like him — because he is unlikable."
Differences like this are what Xuma points out in his new report on guys' dating tips. In addition, he also shows men how to ditch the jerk characteristics they might have and focus on the alpha male traits they have within them.
"An alpha male is not afraid to be nurturing and loyal and take care of others because he knows this only enhances his masculinity and doesn't detract from it," Xuma says. "A jerk only knows how to look after himself."
Jerk traits are often confused with alpha male traits, but knowing the difference, as the report on dating advice for guys elaborates, will mean the success or failure with women in the dating pool, says Xuma.
In fact, according to Xuma, most men embrace more alpha male traits than they realize, once they finally understand just what traits and characteristics are considered alpha male ones.
"This difference is key and will be what determines a man's success or failure with women," Xuma says.
Carlos Xuma is the author of numerous articles and books, including The Bad Boy Formula, Secrets of the Alpha Male, the Girlfriend Training Program. He has appeared on ABC and CBS television, as well as Playboy radio. Xuma has also been a dating expert and attraction adviser for more than 10 years and has spent years teaching hundreds of men important dating skills, such as how to flirt with girls, how to pick up women, and dating tips.
For more information, visit Carlos Xuma's website at http://www.carlosxuma.com.