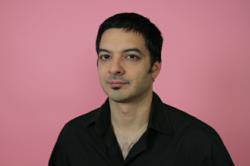 It is important when talking about dating advice for men to start with the basics, and sometimes that takes embarking on an honest, sometimes painful self-assessment.
San Mateo, CA (PRWEB) April 11, 2013
Men usually want to know the one thing summed up that will make them successful with women, and that one thing is simple: self-confidence, says Dating Expert Carlos Xuma in his scathing new report.
"There are so many factors in picking up women and being attractive to the female population, but it is fairly easy to pick just one thing if necessary and that is having a healthy dose of self esteem," says Xuma in the report on dating advice for men. "More than anything else, a guy should focus on improving his confidence level. In fact, efforts to become as confident as possible should be done just about before anything else that has to do with improvement in dating."
That's because the key to success in the dating arena is having a strong foundation of belief in oneself, Xuma says.
"That is step one in learning how to pick up women: self-improvement," he says. "It is important when talking about the best dating advice for men to first start with the basics. Sometimes that takes embarking on an honest, and sometimes painful, self-assessment. But the beauty of doing something like that is that anything learned through that exercise will help a guy for the rest of his life and in every single area of that life."
The self-assessment process should involve an in-depth, brutally honest look at what might be holding someone back from having a healthy level of self-esteem, Xuma says.
"It takes a certain level of maturity for a man to look at his strengths and weaknesses objectively," Xuma says. "The report on dating advice for men can walk any guy through that process and help him to set forward on a new path seeking confidence and success with women."
By focusing on self-improvement, self-esteem and self-confidence issues from the get go, a guy will then be able to tackle the dating world with success, Xuma says.
"Too many guys skip this all-important step and instead rush right into other men's dating advice that involves witty pick up lines, even magic tricks and other tips and techniques that really need a confidence level in place to be effective," Xuma says. "There are some great tips and techniques out there to be used in attracting women, but in order to work, the guy using them must have self-confidence. It's as simple as that."
Carlos Xuma has appeared on ABC and CBS television, as well as Playboy radio. He is the author of The Bad Boy Formula, Secrets of the Alpha Male, the Girlfriend Training Program, and numerous other books and articles. He has been a dating expert and attraction adviser for more than 10 years and has spent years teaching hundreds of men important dating skills, such as how to flirt with girls, how to pick up women, and dating tips for men.
For more information, visit Carlos Xuma's website at http://www.carlosxuma.com.