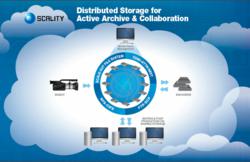 Available at a price that makes new in-house origin servers feasible and income streams like VOD and Internet TV truly realistic.
San Francisco, CA (PRWEB) April 02, 2013
Scality, provider of award winning distributed storage software, today announced the availability of its RING Digital Media Storage solution.
Rich media libraries are expanding exponentially, as media outlets and platforms proliferate.
HD, 3D and now 4K formats have dramatically increased file sizes and new distribution end-points have produced a multiplicity of media formats, each requiring that multiple files to be encoded and maintained. Scality's RING Digital Media Storage was developed to ensure that content producers, post production houses and distribution companies can safely and securely store and access their ever expanding content libraries – cost effectively.
Scality's RING for Digital Media, provides a single innovative solution for both linear archival storage and non-linear play-out storage. Its natively distributed design is based on object storage technology, seamlessly accommodating any and all file formats. Unlike other object stores, it uses this distributed architecture to provide highly concurrent access, perfectly suited to handle the intensive workflows of media and entertainment. With this new solution, Scality brings together massive scale and capacity, multisite capability and cost effectiveness.
"The digitization of content and radical increase in the popularity of video has changed the face of the media industry in recent years. The logical transition to private cloud infrastructure is revolutionizing media distribution and post-production. Scality RING for Digital Media delivers on that dream of cloud storage infrastructure - Providing large scale storage at the right price, with the right performance profile, and the right SLA" explained Scality's CEO Jerome Lecat. "At the end of the day, the goal is to deliver easier, more cost effective access to media assets and provide more ways to monetize them over time." Continued Lecat.
Advanced storage is a necessity when archiving audio and video content. Archival libraries must be kept on-line for use across multiple projects, with ever increasing distribution requirements. As data stores grow, the ability to scale with minimal reconfiguration and without data migration becomes crucial. Scality's RING Digital Media Storage delivers all of this and more:

Virtually indefinite scalability in a single volume – eliminating complex configuration management, and the need for large-scale data migration.
A fail-safe solution with 100% service up-time and complete data durability and resilience
A collaborative solution which enables automatic movement of media from a single source to multiple locations
Independently validated performance metrics indicate that RING's high bandwidth and low latency are uniquely suited to origin server workflows.
Available at a price that makes new in-house origin servers feasible and income streams like VOD and Internet TV truly realistic.
NOTES:
Availability: Scality RING for Digital Media is available today.
Scality will be exhibiting at NAB Show 2013 April 8-11, Las Vegas Convention Center, South Hall, Booth # SL14805
Advanced erasure coding technology ensures that media assets are protected against hardware failure and data center disaster, and it does so at a fraction of the cost of replication. Technical data sheet describing RING's erasure coding technology:
http://www.scality.com/advanced-resilience-configuration-arc-data-sheet/

Independent performance validation – by ESG
http://www.scality.com/esg-lab-confirms-scality-delivers-object-scalability-with-san-like-performance/
About Scality:
Scality redefines storage at scale to make petabyte scale storage easier, less expensive, more reliable and higher performance.
Scality's RING Organic software turns generic x86 servers into a rock solid storage platform. The servers provide the storage media, whether it is performance oriented SSD or capacity oriented SATA, and Scality's award-winning software takes care of the rest, delivering centralized management, data protection, self-healing, high availability and automated-tiering. Scality's scale-out storage software is based on modern object storage technology with no single point-of-failure. It delivers outstanding scalability, while the end-to-end parallel architecture provides unsurpassed performance.
With its fully standards based design, Scality RING supports POSIX file systems, REST standards such as CDMI, Hadoop and block storage to extend virtual machines within the OpenStack framework. The software solution delivers the promise of the cloud, without requiring massive changes to your application. Since 2010 Scality has been a favorite storage solution for cloud providers, video broadcasters, Web 2.0 portals and HPC labs, delivering service to millions of users worldwide. For more information, visit: http://www.scality.com or follow @Scality on Twitter.