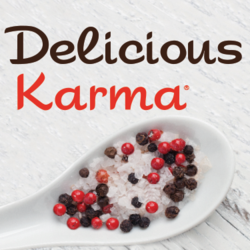 We are deeply honored to be chosen as a finalist for Most Innovative Magento Enterprise Site of 2012
San Francisco, CA (PRWEB) April 02, 2013
Delicious Karma, a social shopping site for real, good food, has been chosen as a top three FINALIST for the Most Innovative Magento Enterprise Site of 2012. Delicious Karma advances to the final round along with two other companies; the winner to be announced at the Imagine eCommerce worldwide conference April 8-10th.
"We are deeply honored to be chosen as a finalist for Most Innovative Magento Enterprise Site of 2012," said Jim Ritchie, Delicious Karma CEO and Founder. "When we created Delicious Karma, we took a long-term view in selecting Magento and engineering partner, Rocket Web, a preferred Magento solution partner. Magento Enterprise offers flexibility and scalability, which allows us to develop a highly customized, integrated, innovative and user-friendly site capable of providing our vendors and customers with a superior online social shopping experience."
Hosted by Magento (owned by Ebay), Imagine is a premiere global e-commerce conference that brings together over 1,300 merchants, partners, developers and Magento enthusiasts from around the world to engage, learn, collaborate, and of course, imagine! Each year, the event recognizes an e-commerce vendor who has shown considerable innovation in how they use and build upon Magento Enterprise to create a notably unique and effective solution to address an important customer need.
"Partnering with Delicious Karma has been an exciting opportunity for Rocket Web," said Matt MacDougall, Rocket Web CEO. "It has challenged us to drive innovation with Magento, pushing the boundaries of traditional e-commerce to develop and integrate uniquely engaging social shopping features, a compelling rewards loyalty program, and a robust fulfillment technology solution.
ABOUT
Delicious Karma is a social shopping site and community for food lovers that makes it fun and easy to discover, learn about, and buy exceptionally delicious, wholesome, all-natural artisanal and gourmet foods, at great prices, while also supporting the community of artisanal food producers. Delicious Karma was founded in 2011 by entrepreneurial husband and wife team, Jim and Michelle Ritchie. Discover delicious goodness at https://deliciouskarma.com.
CONTACT
pr(at)deliciouskarma(dot)com
415-310-9909