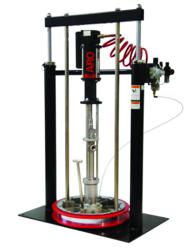 ARO has developed and manufactured piston pumps for more than 70 years, and the AFX product line will continue to drive our legendary reputation for reliability and performance in viscous fluid transfer
Brussels, Belgium (PRWEB) April 04, 2013
Ingersoll Rand®, a world leader in creating and sustaining safe, comfortable and efficient environments, launched a new line of air operated piston pumps and systems. The new AFX product line features air motors in five sizes with Progressive Exhaust, a True Link Valve and integrated regulator technology used on 2-ball, 4-ball and chop-check pumps. The product line also features new 20 Liter and 220 Liter rams for ultra-high-viscosity fluid.
The unique design and power enables to process a wide range of materials from low to high viscosity (up to 1.000.000 centipoises). The modular AFX range offers a solution meeting most applications while the simple design reduces operation costs and gives the customer benefits of a fast payback.
The new AFX product line features 4.25", 6", 8", 10" and 12" air motors along with 20 and 200 Liter rams. A diverse range of piston pumps and application solutions are available from ARO and their distribution partners serving diverse industries like automotive, electronics, printing and wind turbine. ARO piston pumps are ideal for transferring shear sensitive, viscous, corrosive and abrasive fluids in a broad range of critical process and industrial applications such as finishing, coating, bulk material transfer or high-pressure cleaning.
To learn more about the ARO pumps from Ingersoll Rand, contact your local Ingersoll Rand representative or visit ingersollrandproducts.com.
***
About Ingersoll Rand
Ingersoll Rand (NYSE:IR) advances the quality of life by creating and sustaining safe, comfortable and efficient environments. Our people and our family of brands—including Club Car®, Ingersoll Rand®, Schlage®, Thermo King® and Trane® —work together to enhance the quality and comfort of air in homes and buildings, transport and protect food and perishables, secure homes and commercial properties, and increase industrial productivity and efficiency. Ingersoll Rand products range from complete compressed air systems, tools and pumps to material and fluid handling systems. The diverse and innovative products, services and solutions enhance our customers' energy efficiency, productivity and operations. Ingersoll Rand is a $14 billion global business committed to a world of sustainable progress and enduring results within our company and for our customers. For more information, visit ingersollrand.com or ingersollrandproducts.com.