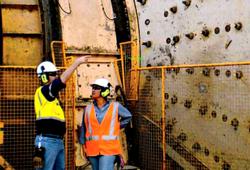 I am more than satisfied with the outcome of the proceedings, Aisha could not have been more helpful in the handling of the case. I thank her for her efforts in a successful conclusion
(PRWEB UK) 8 April 2013
Mr Davidson, from Darlington in the North East of England, was employed as a Press Operator for the former newspaper chain North of England Newspapers, where he was expected to operate exceptionally noisy machinery. According to our official records, during his time with the company, Mr Davidson was expected to use operators such as Linotype and Intertype Line Casting Machines which are notoriously loud whilst functioning. It was alleged that this noise exposure later led to his occupational hearing loss
Aside from this, our files stated that Mr Davidson was also expected to work within the vicinity of other disruptive machinery that were needed for the printing and production of newspapers. Despite beginning his employment in the 1974, the company that Mr Davidson was working for did not provide employees with any hearing safety equipment until around the mid-nineties, by which time excessive industrial hearing damage had already taken place.
Aisha Butt Industrial Disease Litigation Executive for Asons Solicitors, who was working on this particular case, commented on the claim stating:
'Hearing protection was not available from the outset of Mr Davidson's employment and once hearing equipment had been brought in, its use was not enforced'.
Cases of industrial hearing loss are extremely common in environments such as this, as the machinery needed for mass production is particularly loud and very harmful to the ears; especially in the Case of Mr Davidson, according to our case files, he had repeated and excessive exposure to the noise, the results were devastating to his health. With a company as big as the North of England Newspapers there could be potentially hundreds of people that have grounds to make a claim for industrial hearing loss compensation caused by the lack of safety equipment provided prior to their introduction in the 1990's.
Asons urge people not to be apprehensive in filing a claim against an employer, as Mr Davidson did not believe that he had reasonable grounds to make an industrial deafness claim stating ' I was lead to believe my case was not that strong' by another law firm. However Asons solicitors managed to settle the case, giving Mr Davidson £4,000 in compensation. He also praised the work of Asons, commending Aisha Butt on her hard work on the case saying 'I am more than satisfied with the outcome of the proceedings, Aisha could not have been more helpful in the handling of the case. I thank her for her efforts in a successful conclusion'.
If you would like to learn more about the hearing loss claims process, or if you'd like to better understand the condition, you can visit Asons at http://www.asons.co.uk, or you can call their expert helpline on 0844 850 1062
*Clients name has been changed for confidentiality purposes

About Asons Solicitors:
Asons Solicitors is a Bolton-based law practice that specialises in personal injury and industrial disease claims. Founded by brothers Imran Akram and Kamran Akram, Asons Solicitors has developed to become a young and dynamic law firm that delivers practical solutions to clients in times of difficulty. Their continued focus on their staff has seen them awarded with the Investors in People "Gold Award"; which is reflected in the professional and personable approach they take in working with clients. They strive to grow and to develop, and their supportiveness and attention to detail ensures that their clients use them time and again.
For further information contact:
Email: info(at)asons(dot)co(dot)uk
Website: http://www.asons.co.uk