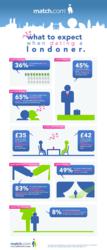 match.com's latest survey reveals that 36% of adults in London are single
(PRWEB UK) 3 April 2013
The UK's best known dating site match.com has released the results from its annual LoveGeist survey, giving a real insight into the average Londoner's love life.
If you're looking for a date in London, then you're in luck, because the 2012-2013 LoveGeist survey has revealed that 36% of adults in the capital are single!
Here are a few of the latest findings from LoveGeist:

When asked about relationships, 83% of London singles placed "feeling more emotionally secure about the future" as one of their top 3 most important factors about being with someone
65% of London singles have experienced the "butterfly in the stomach" excited feeling when meeting someone special for the first time
45% of London singles place "career focuses" as one of their top 3 focuses in life and only 8% consider "looking after children" as a priority
On average, Londoners spend £35.17 preparing for a first date and a further £42.20 while on the date
49% of the singles interviewed said that they would prefer to do something "cultural", so, if they're dating in London they're in the right place; a city steeped in history, London is packed with landmarks, museums and cultural hotspots
The figures have been released by match, the company behind online dating site match.com as part of its annual LoveGeist study. The figures were calculated following a poll of daters in some of the UKs biggest regions and cities and have been used to create an infographic highlighting some of the insights that match.com has discovered about dating in London.
match is the company behind the UK's best known dating site - match.com. match.com is responsible for more relationships and marriages than any other online dating site.