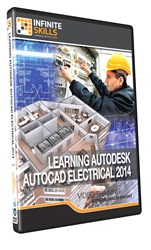 Learn AutoCAD Electrical At Your Own Speed
(PRWEB) April 05, 2013
Software training firm InfiniteSkills Inc. last week introduced its "Learning Autodesk AutoCAD Electrical 2014 Tutorial," a course designed to assist engineers in learning the version of AutoCAD targeted for use in electrical design.
AutoCAD Electrical 2014 is a version of the regular AutoCAD program, including all the capabilities for 2D and 3D drawing of the regular AutoCAD program, plus a complete set of features specifically for electrical design, including a comprehensive symbol library and tools for automating electrical design tasks.
InfiniteSkills' Learning Autodesk AutoCAD Electrical 2014 Training Video teaches how electrical engineers can focus AutoCAD's power for electrical design quickly and effectively, teaching AutoCAD fundamentals as well as electrical tools with clarity and precision.
Learning Autodesk AutoCAD Electrical 2014 Tutorial - Video
Course author Shaun Bryant is a training consultant with 20 years of hands-on experience as an AutoCAD user in civil and structural engineering practice. He has worked for Autodesk in sales support and training, and is currently an Autodesk Approved Instructor holding AutoCAD 2013 Certified Professional status. Bryant currently provides AutoCAD training and consultancy professionally.
Bryant's experience in using and training in AutoCAD gives him the expertise and fluency with AutoCAD functionality to create a lucid, easy-to-follow training experience for AutoCAD users of every level.
After beginning with an introduction to AutoCAD Electrical, explaining basics like the ribbon, the command line, how to work with .dwg files, and more, Bryant demonstrates AutoCAD's drafting settings and dives into the specifically electrical side of things, demonstrating typical electrical drawings and templates.
From there, Bryant explains how to work with fundamentals of schematics, such as symbols, terminal jumpers, circuits, and more, before demonstrating how to edit an electrical schematic with tools for moving, aligning, copying, and auditing electrical components.
As he explains how to work with electrical engineering settings, Bryant also teaches how to draw things like wires, panels, faceplates, and other fundamental components of electrical design. The course also includes chapters on peer-to-peer drawings, and how to produce reports and audits for various types of designs.
"What you'll be looking at here is a very different installation to the regular AutoCAD," Bryant says. "You get all the libraries and standards within AutoCAD to generate standardized electrical drawings."
Free demo videos and a full list of course contents can be found on the Learning Autodesk AutoCAD Electrical 2014 training page of the InfiniteSkills website:
http://www.infiniteskills.com/training/learning-autodesk-autocad-electrical-2014.html
InfiniteSkills offers its Learning Autodesk AutoCAD Electrical 2014 Training Video either as a DVD or a direct download from the company website at a retail price of $99.95. All InfiniteSkills titles and formats are compatible with Mac and Windows operating systems. Shipping is available around the globe. Additionally, InfiniteSkills tutorials are supported by project files which correspond to examples in the videos, allowing users to work alongside experienced instructors right on their computer or iPad.
About InfiniteSkills Inc.
A leader in the field of software training, InfiniteSkills strives to offer the highest quality training available at an affordable cost. InfiniteSkills tutorials are task-oriented instructional videos, teaching complex skills by providing hands-on examples and guiding users as they carry out critical objectives. InfiniteSkills offers a comprehensive range of software titles available as DVDs, digital downloads, and in iPad editions, keeping with company aim of delivering professional training to customers anywhere they want to learn.