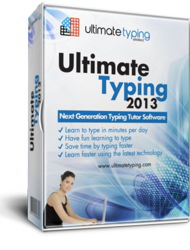 ...according to user feedback, the benefits of using the software are long term, saving the typists many typing hours per week.
New York City, NY (PRWEB) April 15, 2013
Ultimate Typing™ software, developed by eReflect company, is suited to users at all typing levels, the software's developers announced today. According to eReflect, the parent company of Ultimate Typing™ and other e-learning software products, their newest software provides a personalized typing tutorial system that is adaptable and intelligent enough to adjust to any learning style and pace, rendering it the most suitable typing software for beginner and slow typists equally. According to the software's developers, Ultimate Typing™ 2013 has been heavily based on typing research and technology to ensure that users will easily and quickly improve on their typing performance, irrespective of their current typing level — something not many typing software products can boast of being able to achieve.
The software uses a range of state-of-the-art technologies like the Adaptive Learning technology and the advanced, almost interactive video tutorials. As the developers emphasized, both of these features ensure that the user's new typing habits will be efficient and accurate. Further, according to user feedback, the benefits of using the software are long term, saving the typists many typing hours per week. As the typing software developers confirm, Ultimate Typing™ offers a variety of practice drills, exercises, and games, which make it suitable for the whole family. Typing levels and practice difficulty are all adjustable, so that a 5-year old child will find the software as useful and user-friendly as his 20-year-old brother who wants to learn to write up his midterm papers much faster. As the software's developers revealed, the adjustability and flexibility of the typing exercise was one of the primary goals they set for themselves when designing the software. Their mission was to create a typing software product that all members of a family or office team could benefit from.
As a guarantee of the software's high efficiency and success rates, eReflect provides a one-year money back offer with an additional $50 refund for users of Ultimate Typing™. eReflect encourages families and office managers who wish to see their typing skills improve to give Ultimate Typing™ a try.
For more details on Ultimate Typing™ please visit http://www.ultimatetyping.com/.
About Ultimate Typing™
Ultimate Typing™ software is designed specifically for the improvement of typing skills. Created by eReflect, a world leader in e-learning and self-development software, Ultimate Typing™ has been informed by the latest developments in the science of touch typing.
Since its creation in 2006 by Marc Slater, the company has already catered to over 112 countries all over the world, offering products with the latest cutting-edge technology, some of which are among the world's most recognized and awarded in the industry.