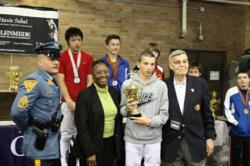 One of our goals at NJFA is to provide a safe and controlled environment to teach children powerful values, determination, and belief in themselves. - Mr. Frank Mustilli, Founder and Head Coach at NJFA
Maplewood, NJ (PRWEB) April 03, 2013
New Jersey Fencing Alliance, hosted the Steve Sobel Super Youth Circuit International tournament from March 15 - 17 at the Jersey City Armory in Jersey City, NJ. As the largest fencing event ever to be held in New Jersey, over 1,200 participants from around the world ages 9 to 14 competed for awards in three categories: Epee, Foil and Sabre.
This Elite SYC competition provided an opportunity to earn United States national youth rolling points; additionally it is a qualifying path for the United States Summer Nationals for Y14, Y12, and Y10 age categories. National Points were awarded to those fencers placing in the top 40% of the competitive field. The Steve Sobel SYC is sanctioned by USA Fencing, organized by New Jersey Fencing Alliance (NJFA), Maplewood, NJ, and is part of a group of events held throughout the country for youth fencers in the same age categories in all six weapons. In addition, this was the fourth event in the prestigious NJFA Youth Cup Series. Steve Sobel was President of the USFA, chairman of the New Jersey Division USFA, and Vice President of the United Sates Olympic Committee.
Ms. Richardson, Jersey City Councilwoman-at-Large, First Female President of the Inter-departmental Minority Police Action Council (IMPAC), and co-founder of Females Organized for Community Unity and Service (FOCUS), attended the competition and helped to present the awards with Mr. Steve Sobel. "I was delighted to be asked to participate in this unbelievable event," stated Ms. Richardson, "It was incredible to see the dedication and determination in the children and the unyielding support of their friends and family. I am always proud to take part in events in our community that support our youth and the youth of the world as it is my strong believe that we must take control of our lives and invest in their future."
The New Jersey Fencing Alliance (NJFA), a non-profit organization located in Maplewood, NJ, hosted this event for the first time. Originally scheduled to be held in November of 2012, the event was postponed until March 2013 due to the effects of Hurricane Sandy. NJFA is dedicated to introducing the sport of fencing to people of all ages and athletic abilities and offers professional instruction from nationally and internationally recognized coaches and fencers, as well as recreational and competition in all weapons.
Mr. Frank Mustilli, Founder and Head Coach of New Jersey Fencing Alliance was very pleased that Ms. Richardson could participate in the event. "We are honored that Ms. Richardson was available to participate in our event and she was so interested in the future of our youth," says Mr. Mustilli. "Her commitment to creating a better tomorrow parallels my personal beliefs and the beliefs of New Jersey Fencing Alliance as well as that of the USFA. One of our goals at NJFA is to provide a safe and controlled environment to teach children powerful values, determination, and belief in themselves – with the knowledge that they can do anything if given the opportunity!"
About New Jersey Fencing Alliance (NJFA)
Located in Maplewood, NJ, the Vision of New Jersey Fencing Alliance (NJFA), a non-profit 501 C-3 organization, is to offer participation in the Olympic sport of Fencing, its skill, strategies and techniques, to students of all ages, racial and socio-economic and cultural backgrounds. Our highly trained and experienced teachers work closely with our students in all weapons (Foil, Sabre and Epee) to develop the physical, intellectual and emotional skills required to succeed in this challenging sport, while maintaining a fun atmosphere. Our teachers will provide the high quality care and understanding needed by our students, to overcome the challenges both on and off the strip. NJFA offers private lessons, classes, and camps in all weapons.
Our goals are to produce National, World, and Olympic Champions in the sport of fencing as well as introduce the sport of fencing to children, teens and adults promoting a strong work ethic and a sense of fair play. Our Core Values include:

To strive for excellence in the sport of fencing
To value sportsmanship, a strong work ethic, and fair play
To teach our fencers to win with grace and lose with dignity
To ensure that all fencers at NJFA conform to the rules, spirit, and etiquette of the sport of fencing
To respect all fencers and members within NJFA
To represent NJFA in the best possible light in local, national, and international competitions
For more information, visit njfencingalliance.com or call 1-973-763-5728.
About United States Fencing Association (USFA)
The USFA was founded in 1891 as the Amateur Fencers League of America (AFLA) by a group of New York fencers seeking independence from the Amateur Athletic Union. The AFLA changed its name to the United States Fencing Association in 1981. The USFA is affiliated with the Féderation Internationale d'Escrime(FIE), the international federation for fencing founded in Paris in 1913. The USFA was incorporated as a non-profit corporation in Pennsylvania in 1964 and in Colorado in 1993 in compliance with the Amateur Sports Act and opened its national office at the Olympic Training Center in Colorado Springs, Colo. in August of 1982.
The mission of USA Fencing is to serve and foster the growth, participation and development of domestic fencing at all levels and to achieve sustained international success.
For more information visit usfencing.org.
Contact:
Mr. Frank Mustilli
President/Founder
New Jersey Fencing Alliance (NJFA)
Tel: 973-224-3448
Email: fmustilli(at)njfencingalliance(dot)com