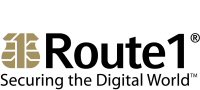 Toronto, Canada (PRWEB) April 02, 2013
Route1 Inc. (TSXV: ROI), a digital security and identity management company whose customers include the U.S. Department of Defense, the Department of Homeland Security, the Department of Energy and the Government of Canada, today announced the immediate availability of the MobiKEY technology for the Apple iPad. MobiKEY is a complete desktop, secure remote access technology that integrates multi-factor authentication and identity management in a mobile computing environment.
MobiKEY subscribers will now be able to use MobiKEY on an Apple iPad running iOS 5 and higher. The MobiKEY technology includes the use of both Route1's universal identity management and service delivery platform and MobiKEY application software.
MobiKEY Features
Features

Offers users exactly the same access remotely that they have at their office
Compatible with iOS, Mac OS X and Windows
Cross domain technology, Host Assets can be on any domain or network
Requires no administrator privileges on the Remote asset
No end-point security required
Enterprise registration and deployment tools available
Integration with Active Directory
Fully integrates with virtual desktop infrastructure
Connection history details for auditing and reporting purposes
Bandwidth efficient - 20 kbps average bandwidth usage per connected user
Security

Multi-factor authentication
1024 to 4096-bit asymmetric keys
TLS 1.1
256-bit AES encryption
RSA SHA-1 and SHA-2 signing algorithms
All files stay within the network
Route1 has no ability to see into the user's data session
PKI based technology – access and authorization management
Malware resistant – immune to zero day threats
The Remote asset does not become a node on the enterprise network
To procure MobiKEY, please email us at sales@route1.com, call us at 1 (866) 371-1780 or 416-814-2608, or go to Route1's eStore at http://www.route1.com/store/index.php.
If you are a current subscriber to the MobiKEY technology, MobiKEY for iPad is available to you at no additional cost. Customers may contact Route1 technical support for instructions by email at support@route1.com or by telephone at +1 866-371-1781.
ABOUT ROUTE1, INC.
Route1 delivers industry-leading security and identity management technologies to corporations and government agencies who require universal, secure access to digital resources and sensitive data. These customers depend on The Power of MobiNET - Route1's universal identity management and service delivery platform. MobiNET provides identity assurance and individualized access to applications, data and networks. Headquartered in Toronto, Canada, Route1 is listed on the TSX Venture Exchange.
For more information, visit our website at: http://www.route1.com.
For More Information Contact:
Tony Busseri, CEO
+1 416 814-2635
tony.busseri@route1.com
This news release, required by applicable Canadian laws, does not constitute an offer to sell or a solicitation of an offer to buy any of the securities in the United States. The securities have not been and will not be registered under the United States Securities Act of 1933, as amended (the "U.S. Securities Act") or any state securities laws and may not be offered or sold within the United States or to U.S. Persons unless registered under the U.S. Securities Act and applicable state securities laws or an exemption from such registration is available.
Neither the TSX Venture Exchange nor its Regulation Services Provider (as that term is defined in the policies of the TSX Venture Exchange) accepts responsibility for the adequacy or accuracy of this release.
© Route1 Inc., 2013. All rights reserved. Route1, the Route1 and shield design Logo, SECURING THE DIGITAL WORLD, Mobi, MobiSecure, MobiLINK, Route1 MobiKEY, Route1 MobiVDI, MobiKEY, MobiKEY IBAD, DEFIMNET, MobiNET, Route1 MobiNET, TruOFFICE, TruFLASH, TruOFFICE VDI, MobiKEY Fusion, MobiNET Aggregation Gateway, MobiNET Switching Array, MobiNET Secure Gateway, EnterpriseLIVE, EnterpriseLIVE Virtualization Orchestrator, MobiNET Agent, MobiKEY Classic and MobiKEY Classic 2, are either registered trademarks or trademarks of Route1 Inc. in the United States and or Canada. All other trademarks and trade names are the property of their respective owners. The DEFIMNET and MobiNET platforms and the MobiKEY, MobiKEY Classic, MobiKEY Classic 2 and MobiKEY Fusion devices are protected by U.S. Patents 7,814,216 and 7,739,726, and other patents pending.
Other product and company names mentioned herein may be trademarks of their respective companies.