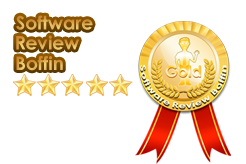 The software also offers a wizard that can help amateurs to design an impressive label.
New York City, NY (PRWEB) April 13, 2013
Software Review Boffin recently announced its top three picks after a comprehensive label maker software review and awards the third place to Label Factory Deluxe 4, giving it five stars and a wealth of admiring comments. A well-known and highly respectable site, Software Review Boffin insisted that the best label maker software must allow its users to exercise their creativity in designing labels, and this process must also be relatively simple, requiring minimal time and effort.
Software Review Boffin is a trustworthy review site known across the industry for its valuable reviews. Products are evaluated against competitor software, using established benchmarks, in order to determine the best three products available in the market in any given category. The evaluation process is an ongoing activity that allows Boffin reviewers to ensure that products continue to meet the required standards.
Reviewers were impressed with the offerings of Label Factory Deluxe 4 that allows its users access to more than 1,500 predefined templates and label formats. The software also offers a wizard that can help amateurs to design an impressive label. With a print preview option and an easy to use interface, this software surely deserves five stars. According to the reviewers, there were slight differences in quality and functionality observed between Label Factory Deluxe 4 and the top two competitor products, and these minor details resulted in the software's current third-place ranking.
The reviewers state that the essential quality of Label Factory Deluxe 4 is that it performs exceptionally well and yet is offered to customers at a highly attractive price. The ability of the software to perform beyond expectations clearly indicates that it is worthy of a position as one of the top three label maker software products available on the market today.
Label Factory Deluxe 4 is a compact package that is an excellent choice for users that want to develop a customized image for their CD or DVDs. Boffin review will continue to evaluate Label Factory Deluxe 4 and other label maker software products as they are introduced on the market or upgraded, and therefore future reviews and research might result in ratings adjustment.
Software Review Boffin reviews the latest technological products in demand on the market right now. They provide expert, honest and straightforward reviews so customers can objectively measure if a product, especially software is well worth it before making their purchase.
To learn more about Software Review Boffin visit http://www.softwarereviewboffin.com