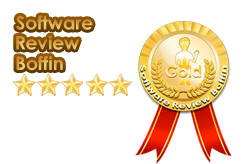 ...the top three list in this and all review categories are kept up to date in order to make sure an accurate review is always available to Boffin website visitors.
New York City, NY (PRWEB) April 14, 2013
In a recent review of the best Windows registry cleaners for 2013, SoftwareReviewBoffin.com, a noted review website, announced its list of the most efficient and reliable software systems in this category. The top three software products are, according to the review, Registry Victor Year 1 in third place, Desktop Maestro at the second position, and at the top, AusLogics BoostSpeed 5. Aiming to provide accurate and objective reviews on the best registry cleaner software, Boffin website reviewers examined and assessed a variety of registry cleaner software products. The assessment culminated with the announcement of the top three list this week.
According to the Boffin website, it is worth noting that the top three software products had almost identical overall scores and that the final result was judged by comparison of details and features that ended up having fairly minor differences sometimes, making it difficult to award the top spot to only one software product. Boffin stresses that this review is valid only up until new features or versions are introduced for these software products and when new, quality registry cleaner software is released on the market, a reevaluation of products in this category will take place. Until then, this review represents software review Boffin website's latest evaluations. The Boffin reviewer team also stated that the top three list in this and all review categories are kept up to date in order to make sure an accurate review is always available to Boffin website visitors.
On the top of the list of registry cleaners, according to the latest review, is AusLogics BoostSpeed 5. As the Boffin reviewers suggest, it is the most efficient of all registry cleaners because it offers an exhaustive list of features, possibilities, and tools for the user. From disk defragmentation, registry cleaning, and registry recovery, to Windows OS personalization and a start-up boosting routine, this software offers users a wide range of features to make their Windows operating system run smoothly and reliably.
The second place ranking was awarded to Desktop Maestro, which the reviewers decided is almost as good a Windows registry cleaner as the top-ranked Auslogics. According to Boffin reviewers, it has a more focused, rather than a comprehensive, approach to registry cleaning. It is a software product that is especially suitable for old Windows or PCs that can benefit from a processing speed boost. The review also mentions how efficient it is for recovering disk space, making Windows run more efficiently.
The third position in the top list by the Boffin website is Registry Victor 1 Year. Another software specializing in registry cleaning, Registry Victor 1 Year is especially efficient in removing registry errors, according to the Boffin reviewers.
The registry cleaner software review will be redone and products re-evaluated in order to keep the list up to date, the Boffin website emphasized.
Software Review Boffin reviews the latest technological products in demand on the market right now. They provide expert, honest and straightforward reviews so customers can objectively measure if a product, especially software is well worth it before making their purchase.
To learn more about Software Review Boffin visit http://www.softwarereviewboffin.com