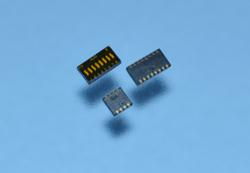 (PRWEB UK) 3 April 2013
TE Connectivity releases the GDH-SA Series DIP switch to meet the market demands of miniaturization allowing for embedded electronics. The GDH-SA Series DIP switch has J-bended terminals providing one of the smallest, surface mount, half pitch, DIP switches available in the industry, saving you design real-estate on the PC Board.
"The addition of the GDH-SA Series DIP switch to the switch product portfolio provides our customers with a variety of attributes to fit unique design requirements and a space-saving solution," said Harald Kautz, Product Manager, TE Intelligent Buildings.
The GDH-SA Series DIP switch is designed with low profile actuators to prevent accidental movement and a gold contact system to provide a reliable electrical connection with an end stackable mounting option making the GDH-SA Series DIP switch your ideal switch for use in security & lighting, alarm & access controls, HVAC and the telecommunications market.
The GDH-SA Series DIP switch is available in multiple positions with tube or tape & reel packaging to meet your specific design and application requirements.
For more product information, please contact your local TE Product Information Center or visit http://www.te.com.
About TE Connectivity
TE Connectivity is a global, $13 billion company that designs and manufactures approximately 500,000 products that connect and protect the flow of power and data inside the products that touch every aspect of our lives. Our nearly 90,000 employees partner with customers in virtually every industry—from consumer electronics, energy and healthcare, to automotive, aerospace and communication networks—enabling smarter, faster, better technologies to connect products to possibilities. More information on TE Connectivity can be found at http://www.te.com/.
TE Connectivity and TE connectivity (logo) are trademarks. Other logos, product and/or company names might be trademarks of their respective owners.