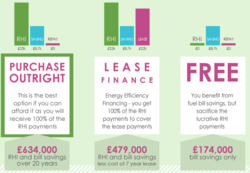 Paying for the biomass boiler yourself is by far the best option if you can afford to as you will receive all the pay-outs from the Renewable Heat Incentive.
Oxfordshire (PRWEB UK) 8 April 2013
Independent renewable energy consultants, EnergyMyWay, have published an article and accompanying infographic outlining the financial rewards that rural businesses can earn - and forfeit - by installing a biomass boiler.
EnergyMyWay, who operate a UK-wide service using local experts in renewable energy, provide an example of the annual sums that businesses can receive under the Non-Domestic Renewable Heat Incentive (RHI) and the estimated bill savings:
Jason Hobbins, Managing Director of EnergyMyWay, commented, "The Non-Domestic RHI scheme pays you quarterly over 20 years for the heat you generate from your biomass boiler. Using a 199kW biomass boiler as an example, you could receive £23,000 p.a. for 20 years, plus your bill savings of around £8,700 p.a. if you were switching to biomass from oil."
They outline three ways to fund a biomass boiler, and the effect of each on the RHI payouts:
1. Upfront payment for the biomass boiler, in which the business gets to keep all the payouts from the RHI;
2. Leasing the boiler, where the business can use their RHI rewards to cover the lease payments for 7 years, after which they keep all RHI rewards for a further 13 years; and
3. A free biomass boiler where the company benefits from bill savings but they sacrifice the RHI payments to the installing company.
EnergyMyWay recommend that, as with solar panels, the financial earnings from biomass, or pellet boilers, are so high, so if a business can afford to pay for their biomass boiler themselves they should do so!
You can read the full article at http://www.energymyway.co.uk/news/free-biomass-boilers-for-businesses-whats-the-catch/ or download the infographic from http://www.energymyway.co.uk/infographic-what-can-you-earn-from-a-commercial-biomass-boiler.
About EnergyMyWay
Trading since 2008, EnergyMyWay specialises in a 'whole house' solution, so we only recommend products that are suitable for your property and the way you live or work in it. We help you to find the best renewable energy solution for you, from Solar PV or Solar Thermal to Air Source or Ground Source Heat Pumps, Biomass boilers and Wind Turbines. We also help you to claim the financial rewards from government subsidies.
EnergyMyWay has offices around the UK and provides independent, expert advice about renewable energy to homeowners, businesses and community groups.
EnergyMyWay are MCS accredited installers and members of the REAL Assurance customer code of practice, and are qualified domestic and commercial energy assessors and all trusted partners carry the appropriate accreditations.