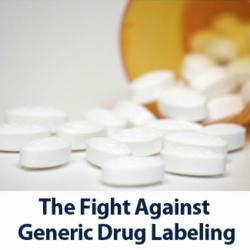 If you've been injured due to a harmful drug side effect, we urge you to contact Wright & Schulte LLC today through yourlegalhelp.com, or call 1-800-399-0795.
Dayton, OH (PRWEB) April 18, 2013
Richard W. Schulte, a partner with the experienced drug injury firm of Wright & Schulte LLC, continues his fight on behalf of victims of generic drug injuries, the Firm reports. On March 14th, the Sixth Circuit Court of Appeals ruled that a woman being represented by Richard Schulte could proceed with her state failure to warn claim against Pliva, Inc. for injuries she allegedly suffered due to the company's generic version of the drug metoclopramide. According to Wright & Schulte, numerous courts have dismissed state law failure to warn claims filed against generic drug makers, following the U.S. Supreme Court's 2011 decision in Pliva vs. Mensing, which found that such claims were pre-empted by federal law. (Pliva, Inc. v. Mensing 131 S. Ct. 2567) The recent Sixth Circuit decision in the generic metoclopromide case creates a narrow exception to the pre-emption defense established by the Mensing decision. (Fulgenzi v. Pliva, Inc. Case No. 12 - 3504, 6th Cir.)
According to the Sixth Circuit ruling, the client represented by Richard Schulte allegedly suffered tardive dyskinesia, a repetitive movement disorder, as a result of using Pliva's metoclopromide between 2004 and 2007 to treat her gastric reflux. In 2004, the U.S. Food & Drug Administration (FDA) ordered the maker of Reglan, the name-brand version of metoclopramide, to update the drug's label to warn that it should not be used for longer than 12 weeks because of its association with tardive dyskinesia. However, Pliva did not follow suit and update the label of its generic metoclopramide to include the same warning.
While the generic metoclopramide lawsuit was filed before the U.S. Supreme Court issued its ruling in Pliva vs. Mensing, the claim was dismissed by a lower court in the wake of that decision. In an appeal to the Sixth Circuit, Richard Schulte of Wrigth & Schulte LLC argued that according to the federal rule of sameness, Pliva was obligated to update the warning label of the generic drug once the label on the brand name version was modified. In a unanimous decision, a three-judge panel of the Sixth Circuit agreed, finding that the company could have updated its label without violating its duty of sameness. According to Wright & Schulte, the Sixth Circuit ruling means that generic drug makers can no longer simply rely on the Mensing decision's preemption defense to avoid liability for injuries allegedly caused by one of their products, but must be able to show they were diligent and timely in keeping their labels up-to-date.
This is not the first time Richard Schulte has taken up the fight on behalf of individuals allegedly injured by generic drugs. As Co-Lead Counsel in a multidistrict litigation underway in U.S. District Court, Eastern District of Kentucky, he is currently representing hundreds of people allegedly injured by the drug Propoxyphene, sold generically and under the brand names Darvon and Darvocet. On February 20th, Richard Schulte, together with his Co-Lead Counsel and the Center for Constitutional Litigation, filed an Amicus Brief in an important generic drug case known as Mutual Pharmaceutical Co. v. Bartlett that is currently before the U.S. Supreme Court. The Brief, which was filed on behalf of all persons allegedly injured by Propoxyphene, urged the High Court to uphold a lower court ruling allowing a jury award levied against a generic drug maker in a state law design defect claim to stand. According to the Brief, the Supreme Court's ultimate decision in the Bartlett case will directly affect generic drug claims pending in the federal Propoxyphene litigation. (Mutual Pharmaceutical Co. v. Bartlett, 12-142.)
About Wright & Schulte LLC
Wright & Schulte LLC, an experienced drug injury law firm, is dedicated to the belief that America's legal system should work for the people. Every day, the attorneys of Wright & Schulte LLC stand up for the rights of people who have been injured or wronged, and fight tirelessly to ensure that even the world's most powerful corporations take responsibility for their actions. If you're looking for a law firm that will guarantee the aggressive and personal representation you deserve, please do not hesitate to contact Wright & Schulte LLC today. Free drug injury lawsuit evaluations are available through yourlegalhelp.com, or call 1-800-399-0795.
Contact:
Wright & Schulte LLC
812 East National Road
Vandalia, Ohio 45377
1-800-399-0795