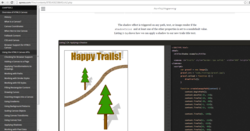 "Our aim was to transform the print book into an immersive tutorial-based learning tool, enhancing the readers' experience by allowing them to work directly within the content" –Jeff Stonefield, Director of Marketing and Operations
New York, NY (PRWEB) April 02, 2013
Apress continues to develop different ways to showcase advanced content to their customers by offering the bestselling title, "Pro HTML5 Programming," by Peter Lubbers, Brian Albers and Frank Salim, as an interactive book. With this first title in their new interactive series, Apress looks to continues to innovate and offers authors and readers alike a new way to publish and learn technology.
According to Lubbers, he and Apress decided to "practice what we preach." Fundamentals of the book were implemented to offer a richer user experience. Video, audio, canvas and HTML5 APIs like application cache were included to enhance the content. "Our aim was to transform the print book into an immersive tutorial-based learning tool, enhancing the readers' experience by allowing them to work directly within the content," noted Jeff Stonefield, Director of Marketing and Operations at Apress. Code snippets expand with the click of a button to reveal an interface where users can see the results from updates in real-time. Intuitive navigation and a responsive design help users access and interact with content from their PC, tablet, or smartphone.
Apress took this experiment a step further by offering the content for free to all registered users on apress.com. The company sent out an email to their customers last week and has had over 23,000 page views since. This project is the first in what Apress hopes will give users another option to view content. Apress will release at least three more interactive books this year.
For more information on the interactive version of "Pro HTML5 Programming," please visit: http://www.apress.com/9781430238645 .

*352 pages

User Level: Intermediate to Advanced
Available eBook Formats : EPUB, MOBI, PDF
Print Book Price : $44.99
eBook Price: $31.99
*Interactive Book Price: FREE
About the Authors
Peter Lubbers a Developer Relations Program Manager in the Chrome team at Google. In 2010, Peter was instrumental in developing and delivering the cutting-edge HTML5 training curriculum at Kaazing. Prior to joining Kaazing, Peter worked as an information architect at Oracle, where he wrote many books, such as the award-winning Oracle Application Server Portal Configuration Guide and the Oracle Application Server Developer's Guide for Microsoft Office. Peter also developed automated HTML publishing and accessibility solutions. Three of these solutions are patented and another one is patent pending.
Brian Albers is the co-owner of Wobbleworks.com, creator of innovative mobile astronomy software. Previously, Brian served as the Vice President of Research and Development for Kaazing, in charge of creating high-performance Web communication software. Prior to joining Kaazing, Brian worked as senior development manager at Oracle, where he led the planning and implementation of Oracle's user interface technology.
Frank Salim is a software engineer at Google. Previously, he was one of the original engineers at Kaazing who helped craft the WebSocket gateway and client strategy. Frank is a San Diego native currently residing in San Francisco, California.
About Apress Media
With more than 1,500 books in print and e-formats, Apress is the authoritative source for IT professionals, software developers, and business leaders all over the world. Apress provides high-quality, no-fluff content that helps serious technology professionals build a comprehensive pathway to career success. Since 2007, Apress has been part of Springer Science+Business Media, one of the world's leading scientific, technical, and medical publishing houses, enabling global distribution of Apress publications. For more information, please visit http://www.apress.com.