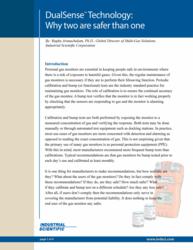 On average, workers using an instrument with DualSense Technology are 85 times safer than those using a typical single gas monitor.
Pittsburgh, PA (PRWEB) April 02, 2013
A new white paper, "DualSense™ Technology: Why two are safer than one," has been released by Industrial Scientific. It is a resource for those who want to learn more about DualSense Technology found in the company's newest single gas monitor – the Tango™ TX1.
The white paper reveals statistics on the low frequency of gas detector bump tests being performed, and the risks workers take by using an instrument that has not been proven fully functional and reliable via a bump test. This data, derived from a study of more than 25,000 gas monitors used in the field and more than 2 million bump tests, prompted the development of the redundant sensor technology.
DualSense Technology includes two of the same type sensor for the detection of a single gas. The two sensor readings are processed through a proprietary algorithm and displayed as a single reading to the user. With Tango's DualSense Technology, workers are safer regardless of bump test frequency.
"On average, workers using an instrument with DualSense Technology are 85 times safer than those using a typical single gas monitor," said Raghu Arunachalam, Ph.D., global director at Industrial Scientific and author of the white paper. "DualSense Technology is a cost-effective way to significantly improve the safety of all workers protected by single gas monitors."
To download the white paper, visit http://www.indsci.com/tangonomics.
About Industrial Scientific Corporation
Industrial Scientific Corporation is the world's leading provider of Gas Detection as a Service. With more than 965 people working in 22 countries, Industrial Scientific is dedicated to eliminating death in the workplace by the end of this century. Achieving this goal requires dedication to delivering highest quality and best customer service in all transactions. Industrial Scientific also focuses on providing analysis of data from equipment use and maintenance to identify problems before they happen. Industrial Scientific has operations based in Pittsburgh (USA), Arras (France), Dortmund (Germany) and Shanghai (China). The company provides technical services to customers from local service centers around the world, and has additional offices in Australia, Bahrain, Brazil, Canada, Czech Republic, India, Indonesia, Italy, Mexico, Netherlands, Poland, Qatar, Saudi Arabia, Singapore, United Arab Emirates and the United Kingdom. Industrial Scientific is the parent company to Oldham (http://www.oldhamgas.com) and Predictive Solutions Corporation (http://www.predictivesolutions.com). For more information, visit http://www.indsci.com.