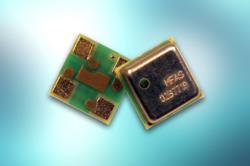 The new MS5637 uses an integrated 24-bit ADC to precisely process pressure and temperature values in as little as 0.5 ms.
Hampton, VA (PRWEB) April 02, 2013
Measurement Specialties (NASDAQ: MEAS), a leading global manufacturer in sensor-based measuring of pressure/force, position, vibration, temperature, humidity and fluid properties, now offers a digital barometric pressure sensor in an ultra-compact QFN package. The new MS5637 uses an integrated 24-bit ADC to precisely process pressure and temperature values in as little as 0.5 ms.
An exceptionally low power draw of only 0.6 µA combined with a compact footprint of 3 mm x 3 mm x 0.9 mm makes this high-resolution module ideal for a wide number of handheld, mobile devices including smartphones, tablet PCs and global position equipment as well as fitness equipment and consumer toys. The MS5637's high resolution temperature output enables operation as an altimeter or thermometer as well.
The MEMS-based MS5637 uses a high-linearity pressure sensor to provide an altitude resolution of 13 cm (5.1") at sea level for highly accurate measurements. The ADC, with internal factory-calibrated coefficients that do not require additional programming, easily interfaces with any microcontroller via an I2C interface.
Standby power of the MS5637 is less than 0.15 µA at 25°C and supply voltage ranges from 1.5 V to 3.6 V. The sensor operates from 300 mbar to 1,200 mbar over an extended temperature range of -40°C to +85°C, with a long term stability of ±1 mbar per year.
Pricing for a MS5637 is less than $1.00 for quantities of 1 million. Delivery time is dependent upon quantity ordered.
For more information, email pfg.cs.amer(at)meas-spec(dot)com or visit http://www.meas-spec.com/product/pressure/MS5637-02BA03.aspx.
For high res download and full text:
http://www.simongroup.com/PressRoom/press-release.php?Job=MEA-A-3322
Follow us on LinkedIn: Measurement Specialties, Inc.: http://www.linkedin.com/company/Measurement-Specialties-Inc
# # #
UPCOMING TRADESHOW: Geological Society of America-South Central Annual Meeting; April 4-5, 2013; Austin, TX
READER SERVICE INQUIRIES: Please direct all product inquiries to Bob Arkell, NA Marketing Manager; bob.arkell(at)meas-spec(dot)com; 760-466-7614.
EDITOR'S NOTE: Measurement Specialties, Inc. (NASDAQ: MEAS) designs and manufactures sensors and sensor-based systems to precisely and cost-effectively measure a number of physical characteristics in several markets from military and defense to medical, consumer and industrial.
By accurately measuring areas such as pressure, temperature, position, force, vibration, torque, humidity, fluid properties, mass airflow and photo optics, our sensors enhance product functionality, efficiency and safety.
Our devices are embedded by original equipment manufacturers (OEMs) or used as stand-alone sensors for test and measurement to provide critical monitoring, feedback and control input. MEAS also offers extensive sensor customization services ranging from special calibrations and connectors to custom label designs.