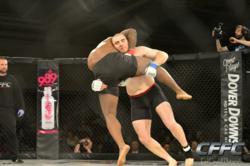 This 6'3" 240lb. athlete is a winning machine
Fairfield, New Jersey (PRWEB) April 03, 2013
Chris Birchler does not fit the mold of a stereotypical fighter. Chris comes from a very stable and hardworking family, he holds a bachelor's degree from Edinboro University, and would much rather win a street fight with words than his fists. However, when he steps into the MMA cage this 6'3" 240lb. athlete is a winning machine. Chris currently holds a perfect record of 7-0 in the cage and is on a 4 fight winning streak as a professional MMA fighter.
Chris has successfully taken his NCAA Division 1 Wrestling career and been molding it into a well rounded mixed martial arts career. He currently fights for Cage Fury Fighting Championship and is looking to move up in the ranks quite quickly as his 26th birthday slowly approaches. He is on a very successful path as he continues to improve all aspects of his game.
Chris Birchler was named the 2012 Number 5 Heavyweight Prospect in the World, ranked by Top MMA Prospects, and was recently ranked by MMA Rankings. Chris's strength is his wrestling, but has been working extremely hard to improve his grappling, jiu-jitsu, and has been hard at work with his boxing coach for well over 2 years now.
Keep an eye out for The Big Buck as he will be making a serious charge for bigger competition in the next few months.
You can learn more about Chris by visiting http://www.ChrisBirchler.com