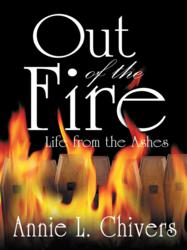 We may not always understand our circumstances, but God does – His love is stronger than our circumstances.
Hubert, North Carolina (PRWEB) April 04, 2013
Eighteen people were killed in the 1957 Moonglow Hotel fire. Seven of them were Annie Chivers' siblings. One of eleven children, the events of that tragic evening have stayed with Chivers for over 50 years. She is now speaking about her family's experiences and how they have affected her life in her new book "Out of the Fire: Life from the Ashes." She often felt overwhelmed by grief from the trauma, but was able to overcome it with faith in God.
"We may not always understand our circumstances," Chivers says, "But God does – His love is stronger than our circumstances."
Chivers candidly speaks about how difficult it was to lose so many siblings from a tragic fire and how she was able to move past this tragic event with God's help. Her story of physical survival from the hotel fire is at the center of her book, but the emotional survival she has been able to achieve through trusting in God is an important part of the picture. She carried the aftermath of her family loss and the impact of involvement in such a large tragedy with her until she found that God's help is the most effective way to heal any wound.
Chivers reflects on the lasting impact surviving the fire has had on both her and her family members over fifty years after the tragedy, and she can clearly see how God worked with these circumstances for good.
"Of course I don't think that losing my 7 siblings in the fire was a good thing, but I know that God had a purpose in it. I may never completely understand His purpose, but I can see the good in certain circumstances resulting from the fire," Chivers says.
"Out of the Fire"
By Annie Chivers
ISBN: 978-1-4624-0500-8 (sc); 978-1-4624-0501-5 (e)
Softcover, $8.99
Ebook, $3.99
Approximately 72 pages
Available at http://www.inspiringvoices.com, http://www.amazon.com and http://www.barnesandnoble.com.
About the author
Annie L. Chivers was one of seven who survived the worst fire in the history of upstate New York in 1957. She is a retired U.S. Marine Corps First Sergeant and recently retired from her second career in federal civil service. Annie currently lives in Hubert, North Carolina, with her husband, John.