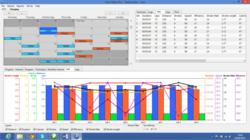 For swim coaches, swim teams and triathletes this represents a real breakthrough in measurement technology
Bozeman, MT (PRWEB) April 02, 2013
The new PoolmateHR swim watch is the most innovative new swim watch for 2013 according to the testers at the Heart Rate Watch Company.
"By delivering accurate laps, strokes and distance, which Poolmate already has an excellent reputation for, and combining that with heart rate data the company is delivering the exact product that swimmers have been asking about for the last decade," says Rusty Squire, President at Heart Rate Watch Company. He adds, "For swim coaches, swim teams and triathletes this represents a real breakthrough in measurement technology."
Powerful and Durable
Using 122 kHz transmitter technology the PoolmateHR is able to transmit heart rate wirelessly to the watch for data collection and real-time reporting. The watch itself has a durable sapphire crystal and ceramic face plate to increase its durability and comes with a docking station for downloading that allows swimmers to take advantage of Swimovate's latest software for swimming analysis.
Vibrating Alarm
PoolmateHR swim watch also uses a vibrating alarm, so you can feel alerts when it is not practical to see them.
"For the past decade you had to wear two watches to get laps, strokes and heart rate, meaning a Polar combined with any other accelerometer swim watch, which is simply too inconvenient to make sense," says Squire. He adds, "We get asked about this type of product every week and now we can finally tell customers that we have it."
Swim Team Training
Not unlike running and cycling, swimming is a combination of mechanical efficiency and technique combined with pacing strategy when longer distances above 200 meters are involved. "What this watch can do for swimmers is look at swim efficiency in strokes per lap, pace per lap and overall pace to help you develop the best pacing strategy using a combination of heart rate and stroke data," says Squire. He adds, "This is simply a way of creating accountability with data."
PoolmateHR is now available at the Heart Rate Watch Company and swim team and club inquiries are welcome by calling 866-586-7129.