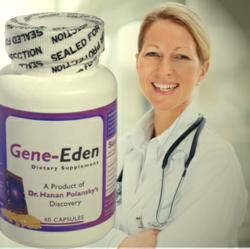 Flu season for this year was definitely much more increased as far as activity. - Dr. Tina Tan [1]
Rochester, NY (PRWEB) April 03, 2013
polyDNA recommends Gene-Eden-VIR, a safe and effective flu remedy designed to boost the immune system against the latent flu virus. polyDNA also recommends that people take Gene-Eden-VIR when they have wish to prevent themselves from being infected. This is because, Gene-Eden-VIR is effective against the latent flu virus since its all natural ingredients include quercetin.
Researchers in two separate studies have found that quercetin, a plant-derived flavonoid, found in many fruits and vegetables, protects against influenza.In other words, because Gene-Eden-VIR contains quercetin, it may be able to prevent and treat the common flu…and thus help reduce the number of those afflicted during flu season.
Researchers in two separate studies have found that "data suggests that short-term quercetin feedings may prove to be an effective strategy to lessen the impact of stressful exercise on susceptibility to respiratory infection." [2]
This news is significant, as the World Health Organization reports that "annual epidemics result in about three to five million cases of severe illness, and about 250,000 to 500,000 deaths." [3]
The studies have found "that during influenza virus infection, there is "oxidative stress."" (3) This essentially means that when a person's body fights the flu, the body's ability to detoxify or repair itself is damaged. The researchers go on to point out that "because quercetin restored the concentrations of many antioxidants, it is proposed that it may be useful as a drug in protecting the lung from the deleterious effects of oxygen derived free radicals released during influenza virus infection." [4]
Quercetin is an excellent source of antioxidants, which are "substances that may protect you cells against the effects of free radicals (harmful cells)." [5]
These findings may hold a significant health impact for hundreds of thousands of seasonal sufferers who struggle with the flu virus.
Gene-Eden-VIR is a supplement that includes quercetin as one of its main ingredients.
To learn more about Gene-Eden-VIR, and how it can boost the immune system against the latent flu virus, please visit http://www.gene-eden-kill-virus.com/
References:
1. http://philadelphia.cbslocal.com/2013/04/01/2012-13-flu-season-is-worst-in-a-decade-say-area-health-officials/
2. Quercetin reduces susceptibility to influenza infection following stressful exercise, by David JM, Murphy EA, McClellan JL, Carmichael MD, Gangemi JD
3. World Health Organization. Seasonal Influenza fact sheet
4. Effect of quercetin supplementation on lung antixodiants after experimental influenza virus infection, by Kumar P, Khanna M, Tyagi YK, Raj HG, Ravi K
5. Medline Plus Health Information, Antioxidants
###
About polyDNA
polyDNA is a biotechnology company that develops dietary supplements using the unique scientific method developed by Dr. Hanan Polansky's, which is based on Computer Intuition. In addition to his unique scientific method, Dr. Polansky published the highly acclaimed scientific discovery, called Microcompetition with Foreign DNA.
The discovery explains how foreign DNA fragments, and specifically, DNA of latent viruses, cause most major diseases. polyDNA developed Gene-Eden-VIR (http://www.buy-gene-eden.com), an antiviral natural remedy that helps the immune system kill latent viruses.