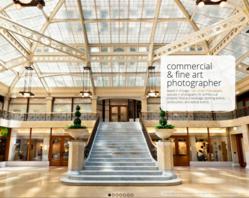 The launch of the new website is exciting, I am able to reach more people and showcase my work in a professional way.
(PRWEB) April 04, 2013
Nick Ulivieri Photography has launched a new website with the creative help of Idea Marketing Group. This website hosts a variety of great features such as high impact visuals, interactive galleries and also a blog.
Being in the photography industry Nick Ulivieri understands the importance of capturing the right images at just the right moment. He works hard to find unique opportunities for the perfect picture and is often featured on WGN's Chicago Weather Center with Tom Skilling, for his wild weather photos. His experience and understanding of the craft enables him to capture beautiful and one of a kind pictures. Nick works with a variety of different industries from weather photography, food photography and special events photography but also construction and sports photography just to name a few. He wants to provide the highest quality images for business so their companies can use that asset and help their company grow.
Like all businesses, Nick was in need of a website that not only would serve as a showcase for his work but also inform visitors of how high quality photography could serve and benefit their company. Nick's website also entails an interactive photo gallery for each of the industries that he works with. The website contains a blog that provides tutorials on photography tips so visitors can improve their own skills and create their own beautiful art. In addition to tutorials, this blog allows Nick to update his website with new photographs, information on events and other news to keep visitors informed. Nick is very pleased with his new website and said "I am very happy to have a website that not only shows people my work but also allows me to interact with my visitors and keep them updated through my blog and interactive galleries. The website is going to help my business continue to grow."
The website was created on a Wordpress platform. Wordpress makes the website easy to navigate from both the front and backend which allows for easy content management and updates.
To check out the new website for Nick Ulivieri Photography please visit http://www.nickulivieriphotography.com.