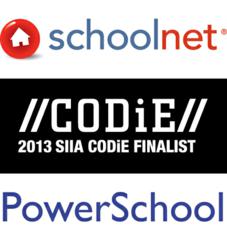 New York (PRWEB) April 02, 2013
PowerSchool, the world's most widely used web-based student information system, and Schoolnet, the most comprehensive, tightly integrated data-driven education software in K-12 education, are both finalists in the 2013 Software & Information Industry Association (SIIA) CODiE Awards. PowerSchool is honored in the Best Classroom Management Solution category. Schoolnet is recognized in both the Best K-12 Enterprise Solution and the Best Student Assessment Solution categories.
Established in 1986, the CODiE Awards celebrate outstanding achievement across the software, digital information and education technology industries. This year, nominated ed-tech products underwent an intensive review by educator judges from around the world.
PowerSchool enables today's educators to make timely decisions that impact student performance while creating a collaborative environment for parents, teachers and students to work together in preparing 21st century learners for the future. PowerSchool provides the full range of features needed by administrators at the district and school level in addition to portals for teachers, parents, and students, including: attendance management, tracking, and notification; optional seating chart formats with student photos; discipline management and reporting; integrated, push-button state reporting; centralized enrollment; administrator dashboard; assessment reporting; robust reporting tools; family and faculty management; address management powered by Google™ maps; student record and transcript exchange - powered by National Transcript Center; and access via iPhone® and other compatible phones.
Schoolnet's Instructional Improvement System (IIS) helps educators, families, students and administrators use data to increase academic achievement and build educator capacity. The IIS provides states, districts and schools with the only truly unified instructional platform that synthesizes student assessment data, instructional resources, professional learning and educator effectiveness to enable individualizing learning for every student and educator. Schoolnet's IIS is comprised of two primary components: the Instructional Management System (IMS) and the Educator Development System (EDS). The IMS delivers interactive dashboards and analytic reports, a full featured assessment platform, a curriculum management platform and an RTI management system, providing students and educators with tools to differentiate and personalize learning for each child. The EDS features a robust classroom observation tool, a professional development management system, professional growth planning tools and a series of data dashboards reporting on multiple measures of educator quality, helping educators use data to drive improvement in teacher practice.
Pearson topped the 2013 CODiE Awards for education with 14 programs earning finalist honors. From classroom management and teacher professional development to virtual and mobile personalized learning solutions, Pearson's CODiE finalists are a testament to its commitment to developing innovative education technology solutions that improve student achievement.
In addition to PowerSchool and Schoolnet, Pearson's products moving on to the next round of competition in this year's CODiE Awards include digits, EQUELLA, iLit, Lab Investigator Tools, MyEconLab with Knewton Adaptive Learning, MyFoundationsLab, MyMathLab with Knewton Adaptive Learning, OpenClass, Pearson Teacher Compass Suite, Pearson iBook2 Textbooks, Prep for the GED Test: MyFoundationsLab Edition and Propero.
Powerschool, Schoolnet and all of Pearson's finalists will now be voted on by the entire SIIA membership to determine the winners in each category. The 2013 CODiE Award winners will be announced at the 2013 Ed Tech Industry Summit in San Francisco on May 6.
For more information about PowerSchool visit: http://www.powerschool.com. For more information about Schoolnet visit: http://www.schoolnet.com.
About Pearson
Pearson (NYSE:PSO), the global leader in education and learning technology, aims to help people make progress in life through learning. Pearson's leadership spans pre-K12, higher education, and corporate learning globally. Pearson's other primary businesses include the Financial Times Group and the Penguin Group. For more information about the K-12 Technology group of Pearson, visit http://www.pearsonschoolsystems.com.
For more information: Adam Gaber, Pearson, 800-745-8489 / adam.gaber(at)pearson(dot)com / @apgaber (twitter)