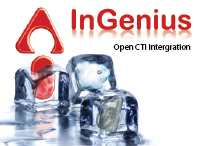 "We couldn't believe how easy InGenius Connector Enterprise is to install, use and manage," says David Francis, vice president of Sales at 36pix.
Ottawa, ON (PRWEB) April 04, 2013
InGenius Software today announced it has launched InGenius Connector Enterprise on salesforce.com's AppExchange, empowering businesses to connect with customers, partners and employees in entirely new ways. InGenius Connector Enterprise (ICE) sits between a customer's existing telephony system and their Salesforce instance to ensure that phone activity is easier to initiate, accurately captured and instantly available for detailed reporting - all without needing to install software on a desktop.
Built on the Salesforce Platform, the world's leading cloud platform for social and mobile business apps, InGenius Connector Enterprise is currently available on the AppExchange at http://www.appexchange.com.
Comments on the News

"Based on feedback from our popular InGenius Connector application, and the new Open CTI technology available from salesforce.com, we've achieved game-changing enhancements with our 2nd generation InGenius Connector Enterprise product," says Dale Gantous, CEO at InGenius. "The ability to deploy CTI to diverse enterprise environments in under an hour is previously unheard of. And InGenius Connector Enterprise can integrate directly with custom objects, maintain synchronicity across multiple browser tabs, and have user or group-based UI customizations. Our easy web based run-time administration tool even allows managers to make changes to the application without interrupting anyone's workflow."
"Companies are turning to the cloud to create deeper connections with their customers," said Leyla Seka, vice president AppExchange and Partner Operations, salesforce.com. "By leveraging the power of the Salesforce Platform, InGenius provides customers with the right social and mobile cloud technologies needed - such as open CTI - to accelerate their transformation into customer companies."
"We couldn't believe how easy InGenius Connector Enterprise is to install, use and manage," says David Francis, vice president of Sales at 36pix. "With no desktop installation required we were able to get all of our Salesforce users up and running with CTI in under an hour."
Connect in Entirely New Ways with Social and Mobile Cloud Technologies
InGenius Connector Enterprise leverages Open CTI technology from salesforce.com to bring enterprise customers a CTI solution that requires no desktop install, providing a streamlined experience with the benefits of a 100% cloud solution. With the Open CTI technology, InGenius Connector Enterprise integrates telephony systems in a call center and can be deployed to thousands of users quickly and easily.
Using the power of Open CTI, InGenius Connector Enterprise provides users with the ability to thrive in their preferred Salesforce work environments. Whether it's using a Mac or PC, InGenius Connector Enterprise allows users to take advantage of several integrated telephony features without interrupting their regular workflow.
Product Key Features
InGenius Connector Enterprise is a server-based product that resides at the customer site to capture every call within Salesforce. For use in both Salesforce Sales Cloud and Salesforce Service Cloud, this revolutionary CTI product leverages Open CTI technology from salesforce.com to provide users with outbound click-to-dial, in-bound screen-pop, automatic call logging, call wrap-up codes, and more. Since calls are automatically logged, call records are accurately captured and instantly available for detailed reporting, giving managers a real-time insight into call center operations.
About the AppExchange
The Salesforce AppExchange is the world's leading business apps marketplace. With more than 1,700 partner apps and 1.7 million customer installs it is the most comprehensive source of social and mobile cloud apps for business. The Salesforce Platform is the world's most trusted and comprehensive cloud platform for building social and mobile cloud apps, powering Salesforce CRM, and more than 3 million custom apps built by customers and partners. Apps built on the Salesforce Platform can be easily distributed and marketed through salesforce.com's AppExchange.
Salesforce, AppExchange and others are trademarks of salesforce.com, inc.
InGenius Software Inc.
InGenius Software Inc. is a North-America based high technology firm with over 20 years' experience in the Computer Telephony Integration (CTI) business, and hundreds of thousands of software licenses shipped globally. InGenius CTI are in use daily, around the globe with businesses of every size. http://www.ingenius.com.
36pix
36Pix is the leading provider of green screen services for the photography industry, including printing, digital background replacement, workflow services and sales solutions. With the proprietary and award-winning ChromaStar® green screen technology, 36Pix offers the highest quality Green Screen Background Replacement and KnockOut solutions on the market today. 36Pix also simplifies the photography production process with turnkey solutions that include online ordering and the web-based DAPHNE® workflow system.