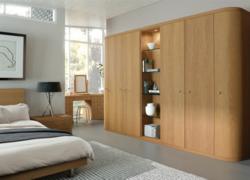 Wood grain finishes never go out of style, and good quality, well designed furniture can express personality and complement lifestyle choices.
(PRWEB UK) 17 April 2013
Towards the end of last year, furniture industry experts Strachan predicted a return to natural finishes, elegance and traditional values for 2013, and there are some pretty quirky examples out there, such as super-sized knitted stools and occasional tables, and innovative designs using every day materials. Check out http://moregeous.wordpress.com/tag/furniture-trends-2012-2013-2014/ to see more.
Wood grain finishes never go out of style and there is a desire to invest in good quality contemporary and classic furniture that that makes a real statement. Everyone wants their home to be their haven, somewhere to retreat to and exceptional design forms the basis for this.
With budgets still tight, any new piece of furniture has to earn its keep. Bespoke fitted furniture has the longevity to do just that, and is a great way of creating a room that flows, maximising space and utilising any awkward nooks and crannies or sloping ceilings. Look for companies making hand crafted fitted furniture using traditional manufacturing methods. This level of detail will ensure furniture lasts for decades.
Adding a personal touch to the trends
Turn to Mother Nature for a trend that will never go out of style and consider natural wood finishes. Darker walnut finishes can create a cosy, warm look, or an uber-stylish sleek look, depending on the chosen accessories. For a more homely appeal, mix with lots of textures and colours. For a more modern look, keep the accessories to a minimum and stay within a neutral colour pallete. It's amazing how the same piece of furniture can be the centre of two very different styles, but it does work.
Love the living room
The living room should be styled so it's easy to chill out and unwind. Switch off the lights and relax by candlelight; fill the walls with old photos, and keep the feeling tranquil with natural materials, perhaps a leather sofa or linen window panels. Bring personality into the room by blending inherited mementos with brand new elements such as fitted lounge furniture. There is nothing is more welcoming than walking in to a room filled with oak or walnut furniture. Mixing these perennial favourites with up-to-the-minute painted matt or eggshell surfaces in a colour to contrast or match walls, can satisfy the most contemporary tastes in interiors.
Keeping up with interior trends
Furniture trends used to change with the decades, but in the 21st Century things are far more dynamic. This is great news for the consumer as choice increases, but it can become a challenge to keep a room on trend without buying new furniture every year. Yet it can be done.
The answer is surprisingly simple. For each room create a neutral base of the moe expensive items that don't get changed so often, such as carpets, fitted wardrobes, fitted lounge furniture or a built in home study. Choose classic wood finishes such as oak or walnut and neutral tones for walls and fabrics. These finishes and tones are always on trend and work in every room. Now choose a theme, such as jewel-tone colours or chunky fabric textures and use these for soft furnishings or a feature wall. Then, when it's time for a change, just repaint the feature wall and change the accessories to create a brand new room without spending a huge amount of money.
Media mentions of return to recession and deficit budgets are still a concern for many, so making cash go further by investing in products that will last seems to be the sensible option for everyone.