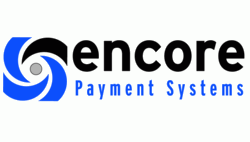 "At Encore, we celebrate our residual program with no cap and unlimited potential for all of our outside sales representatives who we consider close company partners from day one." - Bryan Sparks, Recruiting and Training Manager
(PRWEB) April 02, 2013
Recognized as a leader in the merchant services community, Encore provides the most technology-forward electronic payment processing to small and medium-sized businesses. As a growing company in the competitive payments industry, Encore is constantly looking for the right sales-minded candidates who are willing to learn and turn the sales position into a profitable career.Encore Payment Systems introduces its lucrative residual program offered to all sales representatives for the opportunity to advance career goals.
The residual program is applicable to all outside sales representatives nationwide to take advantage of the opportunity to work side-by-side with Encore Payment Systems. Bryan Sparks, Recruiting and Training Manager for Encore says, "Here at Encore, we celebrate our residual program with no cap and unlimited potential for all of our outside sales representatives who we consider close company partners from day one."
All sales representatives are backed by a team of experts in each department of the payment industry. Team Leaders are assigned to each sales representative, mentoring on a daily basis to reach the assigned daily goals. Encore Payment Systems is offering a unique opportunity for sales-minded candidates by investing in their future and securing a lucrative position in the competitive payments industry that essentially becomes their own profitable business as they grow with the company.
About Encore Payment Systems
Encore Payment Systems was established for the purpose of providing electronic payment processing solutions and other value-added services to small and medium-sized merchants throughout the United States. Encore is a leader in the electronic payment processing field providing credit card, debit card, ATM card, gift card, prepaid card, EBT and check processing services. Encore maintains a sincere dedication to superior customer service and an honest and ethical approach to acquiring new customers. This vision has enabled Encore to become one of the fastest growing companies in the industry excelling in all aspects of merchant services. Encore Payment Systems is located at 3801 Arapaho Road, Addison, Texas 75001. For more information, visit http://www.encoreps.com , http://www.twitter.com/EncorePS or http://www.facebook.com/EncorePS.