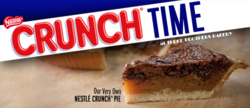 We've been fans of Nestlé and Nestlé Crunch for years and being able to create our own treat with the famous candy and for a national audience is a dream come true!
Houston, Texas (PRWEB) April 02, 2013
Three Brothers Bakery, Houston's fifth generation baked goods staple, has been selected by NESTLE CRUNCH® to participate in its Nestlé Crunch 75th Birthday Showdown. The Houston bakery is one of only 15 bakeries chosen to participate from thousands of bakeries around the country.
Through it's Nestlé Crunch 75th Birthday Showdown, the iconic brand has asked the 15 participating bakeries to create their own NESTLE CRUNCH®-inspired desserts. In turn, fans of the famous treat will vote for their favorite bakery or baked creation on the brand's Facebook page. Three Brothers Bakery is hoping that Houstonians will support their creation, and the city of Houston, in the national campaign.
Staying loyal to its local customer base, Three Brothers Bakery has created "Nestlé Crunch Pie" for the contest, as inspired by their nationally acclaimed Pecan Pie, which has proven to be a customer favorite. The bakery's "Nestlé Crunch Pie" is lovingly handmade with the same crust and base filling as their Pecan Pie, but with a delicious NESTLE CRUNCH® filling instead of pecans.
This isn't the first time the bakery has pulled out all of the stops to create a unique dessert inspired by its pecan pie. In 2010, Three Brothers Bakery created its now legendary Pumpecapple Piecake after being challenged by a local reporter to create a cake that fulfilled his dreams of having all of his Thanksgiving favorites in one dessert. The bakery is hopeful that it's new "Nestlé Crunch Pie" will be greeted with the same enthusiasm by local and national customers, alike.
Three Brothers plans to invite local fans and customers to its two locations to try the new NESTLE CRUNCH® menu item. The "Nestlé Crunch Pie" will be available at its Memorial location today through April 21, when the voting period of the contest closes. Customers can also find the treat at the bakery's South Braeswood location beginning April 3, when the bakery reopens after the Passover holiday, through the contest's end on April 21.
"We were elated when we found out that we were selected to be part of the elite group of bakeries to participate in this competition," Bobby Jucker, co-owner and fifth generation baker, said. "We've been fans of Nestlé and Nestlé Crunch for years and being able to create our own treat with the famous candy and for a national audience is a dream come true!"
Three Brothers Bakery looks forward to sharing this national competition with Houstonians and hopes the community will come together to help the local business win.
For more information surrounding Three Brothers Bakery or their participation in the national Nestlé Crunch 75th Birthday Showdown campaign, and the unique "Nestlé Crunch Pie," please contact Jenny Selber at 713-416-7280 or jenny(at)integratepr(dot)com
About Three Brothers Bakery
The traditions of Three Brothers Bakery began in Chrzanow, Poland circa 1825, and continued to thrive despite the family's concentration camp imprisonment during the Holocaust. Their miraculous liberation, and subsequent move to Houston, brought Eastern European scratch baking traditions to 4036 S. Braeswood Blvd and 12393 Kingsride Lane, where the owners are now proud to call themselves "memory makers who just happen to be bakers." Perfecting the process for almost 200 years, each day the fifth generation bakers produce mostly dairy-free breads and pastries, cookies, a full line of specialty dessert cakes and pies, as well as custom birthday, special occasion, wedding and groom's cakes using only the highest quality ingredients.
The Three Brothers Bakery pecan pie was named "the best mail order pecan pie America has to offer" by Country Living magazine, and most recently, bakery owner, Bobby Jucker competed in the popular 'Food Network Challenge' and has been seen on Food Network's Outrageous Food. Three Brothers Bakery is a certified Woman-Owned Business through Women's Business Enterprise National Council, and a State of Texas Historically Underutilized Business.
Follow Three Brothers Bakery on Facebook and Twitter for Houston area news, information and events.
###