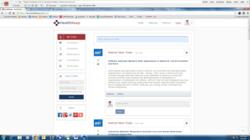 There is a gap in online health of connecting people based on their health and medical records
New York, NY (PRWEB) April 04, 2013
HealthKeep.com, a social network connecting members with like symptoms, medications and conditions launched today to fill the growing demand for personalized online health information. HealthKeep.com harnesses the power of its online community, healthcare professionals and databases to empower its members to track, manage and better understand their health.
A health timeline, managed by the HealthKeep member, automatically connects users with like health profiles in real time discussion streams. These personalized feeds empower members to freely share news, experiences and suggestions with those going through the same things. The timeline also serves as an intuitive easy-to-use personal health record that can be shared with care providers.
HealthKeep maintains profiles of all practicing physicians in the United States, all Federal Drug Administration approved medications, thousands of symptoms, conditions, and procedures. Physicians, like other HealthKeep members, can follow and credibly comment on the conditions, symptoms, and medications of interest to them or their practice.
"There is a gap in online health of connecting people based on their health and medical records," says Dr. Lyle J. Dennis, MD founder and CEO of HealthKeep. "Medical information is readily available online, but to date, privacy laws have limited meaningful discussions of one's health with others."
HealthKeep is fully HIPAA-compliant. Members register anonymous screen names and profiles to protect their identities. Since their profiles are anonymous, they can be shared with fellow members, other users or medical professionals with confidence.
"Managing and understanding your health doesn't need to be an overwhelming effort," says Dennis. "Sharing health concerns anonymously with others having similar profiles and experts in the field not only will help alleviate these difficulties, but may also lead to a healthier life."
Patients, physicians, and well people can register to join the network now at HealthKeep.com.