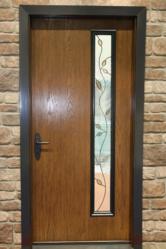 Maumee, Ohio (PRWEB) April 04, 2013
According to the 2012 National Association of Home Builders™ (NAHB®) "What Home Buyers Really Want" study, new and potential home buyers focus in on quality and appearance when looking at the exterior doors of a home. And, the focus on quality increases steadily as the age of the person gets older, jumping in importance from 43 percent of respondents in the Gen Y age range to 63 percent of respondents in the Seniors age range.
Overall, 54 percent of all respondents selected the trait of "quality" as the most important focus for an exterior door while 34 percent selected the "appearance" of the door as being important. These two traits surpassed "upgrade price," "brand name," "warranty" and "features" by survey respondents as being most important.
This most recent 2012 study shows that a change has occurred since the last study in 2007. In 2007, wood exterior entry doors were the most popular choice of respondents. Now, five years later, steel and fiberglass door alternatives have gained in popularity, with steel being virtually tied for first place with wood doors and the popularity of fiberglass doors having gained 10 percent in popularity from the previous study.
Respondents indicated that the aspect of energy efficiency was extremely important for all products reviewed, with an ENERGY STAR® rating for the whole home being seen as "essential/must have" or "desirable" by 91 percent of the respondents.
"Savvy home buyers are doing their research and making energy efficiency a priority while simultaneously selecting products that meet their desires for quality and appearance," says Brad Johnson, vice president of marketing for Therma-Tru Corp. "Fiberglass and steel exterior entry doors meet all of these quality and appearance desires for home buyers. And, at Therma-Tru, 94 percent of the doors we offer meet ENERGY STAR requirements."
Quality that Lasts
Constructed as a complete system of components, Therma-Tru® fiberglass doors are designed and engineered to work together for lasting performance, security and energy efficiency. Multi-point locking systems that engage a series of locks at several places on the frame, impact-rated decorative glass options, plus the adjustable security strike plate that withstands up to three times the force of a standard strike plate, are key factors in creating Therma-Tru's dependable entry door system.
Homeowners looking for durability and quality in their doors can also rely on the Tru-Defense® Door System. This system maximizes the seal between the door and the frame to help keep out the damaging effects of wind and rain, while increasing energy efficiency. Within this optional upgrade system, the weatherstripping, corner seal pad, door bottom sweep and profiled sill are all provided by Therma-Tru and are engineered to work together to provide a door system that can withstand severe weather conditions along with day-to-day family activity.
Appearance and Energy Efficiency
"Appearance is more than just 'what meets the eye' with an entry door," says Johnson. "While the authentic woodgrain or smooth, paintable exterior and detailed door glass options of our doors may appeal to many home buyers, it's what's below the surface that's really important.
"The true beauty of a fiberglass door is that it has a stunning appearance while being crafted with incredible strength and energy efficiency features. With fiberglass you get a door that looks just like wood, plus you also get maximized energy efficiency, stability and low maintenance aspects."
Johnson invites home buyers to mentally peel back the layers of an energy-efficient Therma-Tru® Classic-Craft® fiberglass door to find components that combine to provide the home with protection from air and water infiltration. Start with the core of the door. The polyurethane foam core offers up to four times the energy efficiency of a wood door. A solid hardwood square edge for strong performance that reproduces the look of a real wood door surrounds the foam core and an engineered wood product lock stile (laminated veneer lumber) runs the entire length of the door to add structural integrity and heft.
Covering the insulation materials is a door skin. Fiberglass door skins can be made to replicate the look of real wood (which can be stained and finished easily) or come in smooth, paintable surfaces. The fiberglass door skin resists denting, cracking, splitting and splintering. It also resists rust, shrinking or swelling with temperature changes, or warping.
To gain a tight fit with the door, a composite adjustable sill (a component of the Therma-Tru Tru-Defense system*) reduces the destructive effects of water. Adjustability allows for an air-tight seal with the door bottom to prevent moisture damage. The composite materials resist rotting, warpage or splitting to provide long-term durability.
Next on the "tour de' door" is the kerf-applied dual bulb door bottom on a Therma-Tru fiberglass door. This provides a tight seal by mating with the door's composite bottom end rails. Another feature of the Tru-Defense system, this component features dual bulbs and dual fins that sit tightly on the sill for improved resistance to air and water infiltration.
When it comes time to hanging the door, adjustable hinges on the door frame provide horizontal and vertical adjustment allowing for a perfect, quality fit. Foam-filled compression weather stripping surrounds the door frame to form a solid seal against moisture and air infiltration.
Every homeowner wants a door that opens and closes easily, so Therma-Tru uses heavy-duty ball bearing hinges to provide support and smooth performance in its Classic-Craft door. The hinges are self-aligning for added stability.
Icing on the Door
Two major components of an entry door are extremely visible at all times --- the locking system and the decorative glass.
The multi-point stainless steel locking system offered by Therma-Tru adds security to the door while resisting rust and corrosion. On a shootbolt locking system, three points of locking features with bolts shoot out from the top, bottom and center of the door. A tongue locking system is also available that has a three-point locking features with tongues that come out from the side of the door for a secure fit. Multi-point locking system strike plate packages are available for both versions to add additional stability to the door unit.
Finally, home buyers have the option of adding decorative, clear or privacy doorlites to their exterior doors in a wide variety of styles and designs. Created to reflect the personality of a home, decorative glass packages --- available in a variety of sizes and shapes --- are encased between two panes of tempered glass for energy efficiency and easy cleaning.
Unique to Therma-Tru, each privacy glass panel (available in Chord, Chinchilla, Rainglass and Granite designs) is triple-paned and ENERGY STAR qualified for energy efficiency and security. The textured glass is sealed between tempered, clear glass sheets to provide reduced heat transfer, increased thermal performance and improved sound-dampening features within a reliably-constructed frame.
For a complete diagram and more information of the components of a fiberglass door, visit http://www.thermatru.com/products/entry/components/index.aspx.
###
About Therma-Tru
Therma-Tru is the nation's leading manufacturer and most preferred brand of entryway doors. Founded in 1962, Therma-Tru pioneered the fiberglass entry door industry, and today offers a complete portfolio of entry and patio door system solutions, including decorative glass doorlites, sidelites and transoms, and door components. The company also offers low-maintenance Fypon urethane and PVC products. Headquartered in Maumee, Ohio, Therma-Tru is part of Fortune Brands Home & Security. (NYSE: FBHS). For more information, visit http://www.thermatru.com, http://www.fypon.com or call (800) 537-8827.
*See http://www.thermatru.com for complete details on the Tru-Defense® Door Systems.
ENERGY STAR is a government program that helps consumers protect the environment through superior energy efficiency and is a registered trademark of the U.S. Department of Energy and the U.S. Environmental Protection Agency.
What Home Buyers Really Want is a copyrighted work owned by the National Association of Home Builders of the United States ("NAHB"). "National Association of Home Builders," "NAHB," "BuilderBooks," and the "NAHB" logo are registered trademarks of the National Association of Home Builders of the United States.